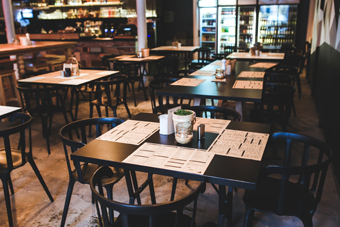 As the restaurant industry becomes more crowded and consumers are looking for more value as grocery prices have dropped, foodservice operators have been looking for ways to boost their profits and visits. One idea that is slowly emerging is "virtual restuarants." These are restaurants that have a kitchen, but no dining space and are available for take-out and/or delivery only. When the concept first emerged, small, independent restauarants were the only ones experimenting with the approach, but now, major delivery services and even large chains are getting on board.
DoorDash opened a commissary for delivery-only restaurants in the San Francisco Bay Area in October. The space, which features four kitchens, is designed for restaurant concepts looking to test delivery or existing restaurants that need overflow kitchens to handle delivery or catering. Bay Area restaurateur Ben Seabury was the first to sign-up for the program. Delivery accounts for about 20% of his overall restaurant business.
Many other restaurants have boosted their delivery capabilities, and some are opening their own delivery-only locations. David Chang's Momofuku restaurant group opened a Manhattan storefront for its delivery-only restaurant Ando in September and Chicago's ASAP Poke runs its delivery-only restaurant from the kitchen of a sushi restaurant. Green Summit Group operates several virtual restaurants in New York and Chicago, and reports claim the startup has received an investment from GrubHub Inc., reported Reuters (Oct. 30).
Uber is making a similar move to rival DoorDash for its UberEATS service. It has been testing virtual restaurants for a little while using consumer insights from its app to determine what new concepts it could develop to improve customer selection, reported TechCrunch (Nov. 9).
For example, if there's a neighborhood where people are frequently searching for Mexican food, but there's no restaurant nearby that offers that, UberEATS can develop its own virtual Mexican restaurant for that market. Instead of creating the restaurant on its own, though, Uber will approach other restaurants in the area that use similar ingredients and see if they are interested in creating an additional business on UberEATS and branding it separately.
Uber is still developing the virtual restaurants concept, but it already has some outlets participating. When UberEATS contacted Chicago pizzeria Si-Pie Pizzeria about creating a virtual chicken restaurant, the owner, who already had a fryer on hand, decided he could also make fried-chicken. He brand it as Si's Chicken Kitchen, instead of including it on his current restaurants' menu. Now, after running the virtual kitchen for about year, the owner's sales of chicken surpassed delivery sales of pizza.
Aside from delivery services realizing the potential of this new industry, one chain restaurant also sees the merit in virtual restaurants. Red Robin began testing a delivery-only concept in Chicago, IL, that will offer the same menu items and catering as its full restaurant locations. All orders at Red Robin Express will be self-delivered by the chain, but it will also offer third-party delivery capabilities through options including Amazon and DoorDash.
While this is currently just a one location test, it seems it may be something the chain will roll-out to other areas. "As the demand for non-traditional dining and off-premise services continue to grow, downtown Chicago presented the perfect location for us to test our new delivery-only concept," said Jason Rusk, vice president of business transformation at Red Robin.
There's no doubt in my mind that other delivery services and chain restaurants will begin to experiment with their own virtual restaurants, as profit margins in the restaurant industry become increasingly slim.