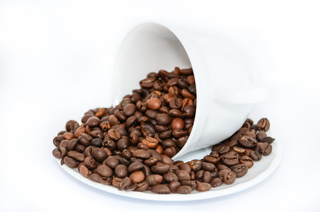 There was once a time when all coffee drinkers wanted from their morning cup of joe was a caffeine boost, a reasonable price point and maybe a touch of hazelnut or vanilla flavor. Now, coffee drinking has morphed into something much more than just a morning energy boost, with the emergence of new, premium coffee brands and the growth of what is being called the "third wave" coffee movement.
Starbucks has always been a more premium brand for coffee drinkers, with more complex drinks like caramel macchiatos and java chip frappucinos, while chains like Dunkin' Donuts and McDonald's were the tried-and-true standbys offering inexpensive coffee that was more about classic flavors and quick service. However, with the rise of the third wave movement, Dunkin' Donuts has been releasing more upscale drinks like cold brew coffee and salted caramel hot chocolate to stay competitive with Starbucks. Even McDonalds is planning to shakeup its McCafe brand with a move to source all of its coffee sustainably and upgrade its espresso machines to make more consistent-tasting drinks, reported Portland Press Herald (Dec. 6). The international competitor to Starbucks, Dunkin' Donuts and McDonald's, Tim Hortons, is also testing new premium espresso coffees in its restaurants in Vancouver and London, Ontario, replacing its previous powder and milk espresso drinks, reported The Globe and Mail (Dec. 12).
While Starbucks may have been the premium coffee shop of choice for many consumers, it is now facing heavier competition from upscale, independent cafes. After announcing its current Chairman and CEO Howard Schultz will transition to executive chairman and will shift his focus to innovation, design and developing Starbucks Reserve Roasteries around the world, the chain also unveiled plans to open 12,000 new stores globally by 2021. It will also roll out new food offerings in 2017, including breakfast options, such as Sous Vide Egg Bites, and regional organic soups. It also plans to grow its at-home and ready-to-drink product sales.
In an effort to increase its share of the gourmet coffee market, Starbucks plans to accelerate its expansion of its Reserve Roastery concept, opening its next Roastery in Shanghai in 2017, Tokyo and New York City in 2018, and a fifth location in Europe to be announced early next year. It will also open standalone Princi cafes in Seattle, New York and Chicago in late 2017 and early 2018.
While Starbucks is looking to push its way into the upscale cafe segment, Peet's Coffee & Tea is aims to keep its foothold. Peet's, which owns craft coffee brand Stumptown Coffee Roasters and has a majority stake in Intelligentsia Coffee, plans to open a 175-square-foot coffee roasting facility in Suffolk, VA. The $58 million expansion is expected to help Peet's keep up with increasing demand for coffee from its locations and in grocery store channels.
Meanwhile, as the third wave coffee movement grows in the U.S., it is also making strides overseas. A growing middle class in South East Asia is influencing coffee trends, according to a report from Mintel. Economic growth in the region has increased consumer spending and more overseas travel has boosted interest in the third wave coffee movement in countries like Singapore, Malaysia and Thailand. Young, middle class consumers are looking for premium varieties of coffee, including specialty roasts and cold-brewed coffee.
While it may be a good idea to embrace this new coffee movement and appeal to younger, up-and-coming generations, it is also important for each company to remember where their roots lie. Finding a balance between trendy and familiar will likely be vital to the success of the third wave at many of these established chains.