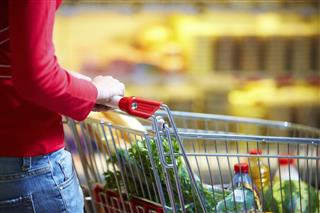 Summer is a big season for convenience stores. Long car trips on the way to vacation destinations and days at the beach make them a popular stop for most Americans in the warmer months. But c-stores are facing more competition than ever before, as they battle traditional supermarkets and specialty stores to grab customers looking for healthier, fresher options, and contend with quick service restaurants to win over the prepared food audience.
The good news is, more than two in three convenience retailers say in-store sales in the first half of 2016 were higher than the same period last year, according to a survey by the National Association of Convenience Stores. To attract those health nuts looking for fresh foods, 43% say that they added more fresh fruit or vegetables this year, 39% added more packaged salads, and 30% added more cut fruits and vegetables. Bottled water sales are also growing at c-stores, as nearly half of all retailers expanded their bottled water offerings and even more increased their nutraceuticals and enhanced water selections.
Prepared food is also becoming a major category for convenience stores. Sixty-four percent of retailers are confident in their ability to compete with quick service restaurants for customers. Golden Pantry Food Stores and Flash's C-Store are adding more prepared foods and fresh fruit and salads, while SpartanNash is expanding its nuts and seeds, jerky and protein bar selections.
Things aren't all positive, though. Retailer optimism is dropping, falling 20 points from a year ago. Concerns about the economy is a major factor in the drop in optimism, as only a minority of retailers now say they are optimistic about the overall U.S. economy, down from 61% a year ago. Retailers are also worried about upcoming regulations, especially ones relating to wages.
Another concern may be the growing e-commerce industry, specifically Amazon's increasing success. Amazon plans to introduce a few private label brands selling items like nuts, spices, tea, coffee, baby food, vitamins, diapers and laundry detergents. According to a study by Carbonview Research published in Convenience Store News, this planned private label grocery program could affect convenience store retailers more than any other retail channel. Forty-four percent of respondents said they would buy private label products less frequently from c-stores if Amazon's private label products were offered to them. Comparatively, 41% of respondents said they would buy less from drugstores, and 38% would buy less from club stores, mass merchandise stores and grocery stores.
This is particularly worrisome for c-stores, as they are already facing competition from other retailers and restaurants, but it is also something the entire food industry should be aware of, as private label makes up a huge part of food sales. Carbonview's study found that only 2% of consumers never purchase a private label product, 80% purchase them on occasion, and 18% buy private label products whenever available. The highly coveted Millennial demographic is also more likely to purchase private label products, with 26% saying they buy private label products whenever available. Even though Amazon's private label products will only be available to Prime members, nearly two-thirds of Millennials are already members of Prime, and 15% of all customers expect to join the service in the next 12 months.