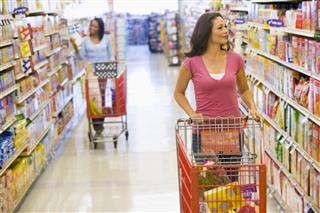 Today's consumers love to snack. Some believe snacking throughout the day is healthier than eating three large meals, while others look to snacks for their convenience and portability. Whatever the reason, it's undeniable that snacks, especially in the "better-for-you" category, are gaining popularity at a rapid pace.
No/low/free-from options with alternative bases, jerky in many forms, and brand extensions and licensing are some of the top sweets and snacks trends, according to research firm Mintel. Alternative bases, including rice, lentils and peas are showing up in a variety of salty snacks, and snack foods are among the top categories where pea protein is used, accounting for 15% of launches. Free-from products are also popular, as 56% of consumers are concerned about some of the ingredients in salty snacks. Almost 80% of salty snacks consumers, though, believe there are more healthy options than there used to be.
The NPD Group's research also shows snacks that have perceived health benefits are the most popular. Protein, natural, and no or less sugar are the claims that consumers are most looking for in snacks. Out of the three main snacking categories, better-for-you, savory, and sweet, better-for-you snack foods are expected to grow the fastest and consumption is up 14% since 2006. Savory snacks are also expected to grow, as consumption increased by 4% since 2006. Sweet snack fans have dwindled over the years, but as more sweet snacks offering health benefits launch, consumption is forecasted to stabilize over the next few years.
Nutrition bar companies are also capitalizing on the healthy trend, as there are over 700 more nutrition bars on the market than a decade ago, according to Valient Market Research. Prices have also increased from about $1 a decade ago to $2 now, showing that consumers are becoming less sensitive to price. Many shoppers say they would pay as much as $3 for a bar seen as offering superior nutrition, and the most sought-after bars are those that are minimally processed and contain protein, probiotics, meat or vegetables, reported The Wall Street Journal.
The Kellogg Company has noticed the snacking trend too, and plans to launch its own subscription service similar to existing companies like Graze and NatureBox, reported Bloomberg. It may seem like unusual timing as General Mills just discontinued its own snack subscription program, Nibblr, which shipped its last boxes on June 5. But both companies are trying to win back customers with healthy options, and as a Kellogg's spokeswoman said, "We're always looking for new ways to reach our consumers."
It still remains to be seen whether snackers will learn to trust better-for-you snacks from large companies, or if they will continue their trend of favoring smaller startups with natural/organic/local claims.