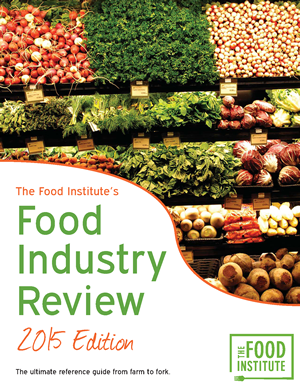 The food industry is constantly changing as new trends emerge, consumer tastes change and government regulations are updated. History is usually a good indicator of what is to come, and past trends are bound to lend themselves to future shifts. So it's important that businesses look back at the past year to determine what moves they should make in 2016.
A lot happened in the food industry in 2015. It was a record year for mergers and acquisitions, online grocery shopping really started to take off, restaurant spending was up, and the first few rules of FSMA were finally released. Food companies also started to focus more on removing artificial ingredients and simplifying their recipes, social media became an increasingly important tool for reaching customers, and a new generation, Gen Z, made its way into the consumer sphere. As a member of the food industry, you probably took note of the big developments that obviously impacted your business, such as a large merger or a bankruptcy filing, but what about the other changes that could be just as important, but are not as overt?
The Food Institute has been tracking these industry happenings for almost 30 years, in its annual report The Food Industry Review. The Review is an extensive compilation of all the developments in the industry in the past year, covering topics including: consumer trends; retailing formats; restaurants and foodservice; social media and mobile marketing; economic pulse; FSMA; private label; specialty, organic and sustainability; new products; food processing; mergers and acquisitions; and demographics.
This year's edition of the report delves into a wide range of trends and issues, with sections such as "Millennial Spending Shaped by Circumstances, Diversity," "Restaurant Chains Embrace 'Natural' Ingredients," "Tech, Social Media Even Further Ingrained in Food Industry in 2015," "Consumers Increasingly Embracing Organic Food," and "Acquisitions Fueling Innovation as Companies Seek New Trends."
Our CEO Brian Todd sums up the Review best, saying, "We are keeping the industry knowledgeable about what is happening so it can make better informed decisions moving forward."
The Food Industry Review 2015 Edition is now available to purchase.