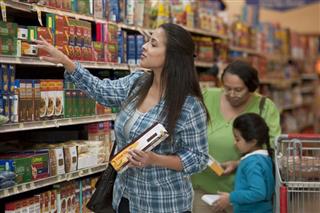 Grocery store checkout lanes are not usually customers' favorite place. Waiting in line and being begged by their kids or tempted by their sweet tooth to buy candy, soda and chips can be an uphill battle, but some retailers are on a mission to change that.
As part of an overall shift to healthier, specialty foods, Target decided to revamp its checkout lanes. In specific test markets, it is moving the candy bars and potato chips to the lowest shelf, and placing healthier snacks at eye level, such as popcorn from Angie's Boomchickapop, Skinny Pop, Pretzel Crips, sweet potato tortilla chips from Way Better Snacks, and blue corn chips from Food Should Taste Good, according to Minneapolis Star Tribune. The end-caps of the checkout are also updated, featuring other better-for-you snacks such as freeze-dried mango slices from its private label brand Simply Balanced, bags of granola from Bear Naked and even bunches of fresh bananas. Thirty stores are piloting the change, including locations in the Minneapolis, Dallas and Denver markets.
Customer responses so far have been positive, but a company spokesperson says they are trying not to annoy customers by pushing it too far. She notes, "They don't want us to tell them how to live their lives." She also mentioned that customers have said they don't want to be introduced to new brands and items at the checkout lane, and they gravitate towards well-known brands.
German retailer Aldi, which has been rapidly expanding in the U.S., is also experimenting with healthier food at checkouts. It is introducing Healthier Checklanes in its almost 1,500 U.S. locations in 2016. The program will replace chocolates and candies with single serve nuts and trail mixes, dried fruits and granola bars.
Like Target, Aldi is also shifting towards more better-for-you options across the whole store. Its private label brands, which make up over 90% of the store's offerings, are now free of certified synthetic colors, partially hydrogenated oils and added MSG. It also committed to removing artificial growth hormones from its dairy products, including milk, yogurts, sour cream, and cottage cheese. Aldi will also expand its selection of organic meat and produce, its SimplyNature line of products, and its liveGline of gluten-free products.
In addition to changes to its product offerings, the chain is also trying to make it easier for customers to choose healthy foods. It will highlight nutrition information on the front of its packaging to make it easier to find, and will partner with registered dieticians to offer tips, recipes and meal-planning ideas.
The fact that non-traditional grocers, like supercenters and discounters, are beginning to see the importance of offering organic and better-for-you products, shows that it is no longer an option for retailers to ignore these types of items. If traditional retailers don't make similar changes, they run the risk of losing customers and market share to these alternative outlets.