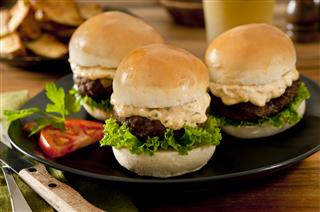 With football's biggest game of the year coming up in just a few days, many retailers and restaurants are getting ready to serve a boost of customers for this food-focused event. While most people host or attend parties to cheer on the game or watch the big-budget commercials, a lot of emphasis is placed on the food.
A record number of American adults will make food and beverage purchases for the Big Game this year, according to a survey by the National Retail Federation and Prosper Insights & Analytics. Of the 76% of American adults who plan to watch, 82% plan to purchase food and beverages, up from 80% in 2017. Five percent of adults will watch the game at their favorite local bar or restaurant.
Americans are expected to spend $81.17 on average for Big Game supplies, for a total of $15.3 billion, up 8.5% from $14.1 billion in 2017. Those aged 25-34 will spend the most of any age group at an average of $118.43.
One of the most popular food choices for the game is chicken wings, and U.S. adults are expected to eat 1.4 billion wings during the weekend of the Big Game, according to the National Chicken Council. This is an all-time high, up 1.5% from 2017. It is enough wings to put 625 wings on every seat in all 32 NFL stadiums or to circle the Earth three times.
More than half of chicken wing eaters typically like their wings with ranch dressing, followed by buffalo/hot sauce, BBQ sauce, honey mustard blue cheese, teriyaki sauce, and sriracha. Sixty percent of wing eaters prefer traditional, bone-in wings, while 40% choose boneless.
Two of the biggest winners of the Big Game might be local grocers and restaurants, as a survey from Valassis shows 43% of consumers will primarily shop through local retailers and grocers for the game. More than half are only willing to travel less than four miles for their purchases, while half of those planning to order food will do so from restaurants within just five miles.
Even though the game is less than a week away, Valassis suggests it is not too late for retailers to market their products for event. A majority of consumers will complete their purchases just a day or two before, or even the day of, the Big Game. Most customers, 75%, will shop for groceries and supplies in-store, compared to 15% who will do so both in-store and online and 10% who plan to shop only online.