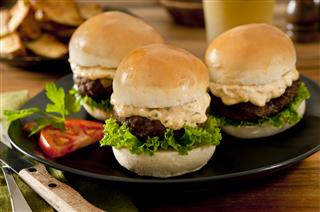 Many large restaurant chains are revamping their interior decor as they try to compete with new, smaller concepts that offer healthy options and a contemporary environment. Studies have shown that ambiance can be as important as the food itself, and diners may judge a restaurant instantly by how it looks, even before taking the chance to taste the food.
Ruth's Chris Steakhouse is working on a renovation called Ruth's 2.0 that is aimed at attracting younger consumers to its restaurants. It is making its bars larger and replacing the wood in its dining areas with stone for a brighter feel. The project will cost $8 to $15 million over the next few years, an amount the chain now has due to the sale of Mitchell's Fish Market. After the remodel, the chain hopes to still be an upscale casual restaurant with an intimate feel.
California Pizza Kitchen is also looking to attract more Millennials with its new rustic decor. Some 80 locations will be remodeled by 2016, and the plan is to make each unique, so no two stores look the same. It is also expanding its menu with more made-to-order items and new drinks. The aim is to appeal to "young and sophisticated foodies," according to the company's CEO.
Similar to California Pizza Kitchen, Saladworks also plans to remodel its restaurants with a sort of rustic look, including natural wood finishes and a farm-to-table motif, which is a popular theme to attract young diners. Saladworks was recently acquired by Centre Lane Partners LLC, who plans to ramp up growth of the chain and update stores. Centre Lane will also introduce new menu items, such as gourmet cheeses and organic greens, as well new packaging and a smartphone app.
Red Robin is looking to bring in more youngsters too, but it's setting its sights on a different crowd, specifically on families with young kids. Besides offering a new kid's menu, it plans to revamp its in-restaurant elements, such as adding a balloon tree, chalkboard wall, LEGO sculptures, and decorated straws and placemats. The interior updates will appear in Red Robin's restaurants through 2016.