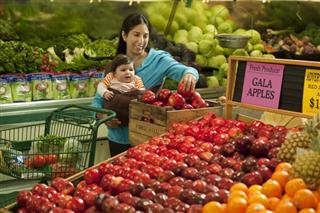 Faced with increasing competition in the supermarket sector, retailers really have to step up their game. It's no longer enough to just have a wide selection or be close to people's homes. With so many more options, customers aren't sticking with one primary store, but moving from retailer to retailer to find the one that has the right balance of value, convenience and quality.
Publix was once the go-to grocery store in Florida and the rest of the Southeast, however, more chains have been moving into that territory and threatening Publix's domination. Publix plans to spend $1.9 billion in 2017 to open new stores, remodel existing stores, introduce or enhance information technology hardware and applications and acquire shopping centers where Publix is the anchor tenant, reported Tampa Bay Business Journal (Mar. 1). In 2016, it opened 32 new stores and remodeled 156, with capital expenditures totaling $1.4 billion.
Its same-store sales increased 1.9% in 2016, and revenue increased 5% from 2015's $32.4 billion. Same-store sales in the fourth quarter alone increased 2.2%.
Meijer also plans to invest in its stores across its six-state footprint. It will invest more than $375 million on seven new Meijer supercenters and 22 different remodel projects. The remodels include improved store layouts, expanded grocery and health and beauty sections, as well as lighting, heating, refrigeration and parking lot improvements. It will also introduce technology in key areas during the remodel process that will create more energy-efficient stores.
Kroger Co. is also looking to boost its revenue, as it posted a 0.7% decline in same-store sales in the fourth quarter of 2016, the end of a streak of 52 consecutive quarters of positive growth, reported Cincinnati Business Courier (Mar. 2). One of the ways it plans to improve sales is by expanding its delivery, which it previously only focused on the test market of Denver. Now it will move the service into more areas across its national footprint, reported Nashville Business Journal. (Mar. 2).
Kroger has mainly been focusing on its ClickList curbside pickup service, which is now available at more than 600 locations. In an interview with Nashville Business Journal, CEO Rodney McMullen noted customers have responded will to the ClickList service, and they find "picking up groceries is just as helpful as having them delivered to their house."
This increase in brick-and-mortar retailers getting into the online food ordering business may be why Instacart is currently in the midst of $400 million funding round, according to sources, reported Business Insider (Mar. 1). Funding to on-demand delivery companies has dropped in the past two years as many companies are struggling to keep their businesses open. Instacart's new funding round would value it at $3 billion, and may include past investors such as Sequoia and Whole Foods Market. Instacart is also reportedly considering outsourcing its delivery services to focus solely on its shoppers in stores.