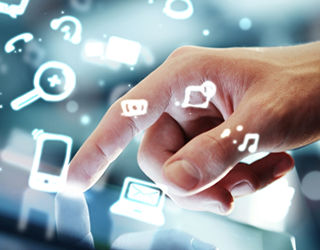 Quick-service restaurants (QSRs) are constantly looking for ways to improve. Sometimes it's by sourcing more local and sustainable ingredients, or by adding new menu items. But one way a lot of QSRs are attracting attention is with digital integration. By that I mean installing ordering kiosks, incorporating mobile payment options, and improving online ordering. Smartphones and tablets have basically become extensions of the modern consumer, so it only makes sense to use that technology to reach consumers and make the restaurant experience better.
Starbucks is one of the leaders on the mobile payment front, as it consistently has a higher-than-average number of people paying by smartphone. It uses its smartphone payment app as a loyalty program, and as a frequent user of the app myself, I can say from personal experience that rewards are definitely a motivator to pay with the app. Customers link a gift card with the app and can keep reloading it as often as they like. Whenever users pay with the app they receive stars, which are essentially loyalty points. This encourages frequent visits and mobile payments, as the more you use the app, the more rewards you get. This model has proven successful for the coffee chain, as in its fiscal first quarter 2016, membership in its loyalty program increased 23% and it has more than 11 million active members in the U.S. Additionally, $1.9 billion were loaded on starbucks cards in the U.S. and Canada.
Mobile payment is just one branch on the digital integration tree, though. Digital ordering is extremely popular, enabling restaurants to offer diners more customization, while also speeding up the ordering process. McDonald's is one chain embracing digital ordering. It began opening "Create Your Taste" restaurants which have touchscreen ordering kiosks where customers can build their own burger to their exact specifications. Orders are also brought out to customers' tables, making the experience more like a "better burger" chain.
A new quick-service chain, Eatsa, which opened recently in California, takes it one step further by removing human interaction altogether. It has ordering kiosks like McDonald's, but when the food is prepared, it is placed in a numbered cubby to be picked up by the customer. This system, the company claims, is "engineered to get you in and out fast" and removes those pesky lines.
While some people might like the idea of not having to speak to anyone during their lunch break, that is not usually the goal of digital integration. It is meant to make QSRs more efficient and true to their name: quick. That is why Panera rolled out its Panera 2.0 project two years ago, to reduce the crowds that usually gather at high traffic times. The system was designed to include online ordering, fast lane ordering kiosks, mobile payments and order delivery to the table. Now, 16% of the restaurant's total sales are ordered and paid for digitally and it projects that more than 20% of its business will be digital by the end of 2016. To-date, its digital sales are at $500 million and it could reach $1 billion in annual sales by 2017. Over 2 million customers have downloaded the Panera mobile app since its Rapid Pick-up service was launched in August 2014.
Panera also plans to expand its delivery service to between 200 and 300 locations in 2016, which is about 10% of its restaurants, according to St. Louis Post-Dispatch. The service is currently only available at 25 Paneras in Louisville, KY, and Charlotte, NC.
Overall, it's a smart choice for restaurants to integrate more technology into their locations to become more efficient and convenient. After all, isn't that the main appeal of the quick-service restaurant?