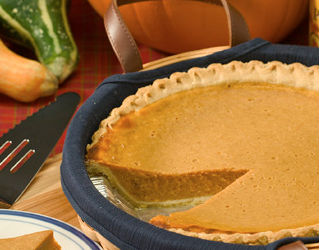 Students complain when the back to school items start gracing store shelves as early as July, but there's another fall item that keeps popping up earlier and earlier: pumpkin. It seems Americans can't get enough of this fall flavor, and this year is no different. Manufacturers, restaurants and retailers are all cashing in on the pumpkin craze, with loads of new products and some changes to old favorites.
Starbucks' pumpkin spice latte is one of the most notable pumpkin products, but this year customer's might notice a difference. The chain revamped the recipe for the popular drink, using real pumpkin and removing the caramel coloring. It also released a full list of ingredients, after receiving scrutiny for not being forthcoming about what went into the drink. It also plans to release the drink a week later than normal, on Sept. 8, but will give certain customers "early access."
Panera will also revamp its pumpkin spice latte recipe, removing an artificial preservative to make the company's drink "clean." The move is part of a larger effort by the company to clean up its menu by removing artificial sweeteners and preservatives, replacing them with more natural, clean ingredients. It, however, was already using real pumpkin in the drink ever since it was introduced about a decade ago. Panera's latte will debut on Sept. 9.
Foodservice outlets aren't the only ones getting in on the trend, either. A slew of manufacturers have already announced their pumpkin products for the fall. Mars Chocolate released pumpkin spice latte M&M's, which are already available at some Target stores. Kellogg's offers pumpkin spice Frosted Mini-Wheats and pumpkin pie Pop Tarts. Jif even introduced Whipped Peanut Butter & Pumpkin Pie Spice spread. The list goes on to include pumpkin spice Pringles, Hershey Kisses, Oreos, and Jell-O. Beer companies are also big on the pumpkin flavors, some even releasing theirs as early as August.
The question is, however, are customers still responding to this seasonal, "limited-time" craze? A study by Harris Poll shows that while customers do believe "limited edition" denotes quality and has some influence over their purchase decision, almost two-thirds believe it is overused. Millennials are the most likely to say "limited-edition" communicates that a product is high quality and are more likely than all other generations to say it has at least some influence on their purchase decisions. The older generations, especially Baby Boomers, are more likely to say the term is over-used.