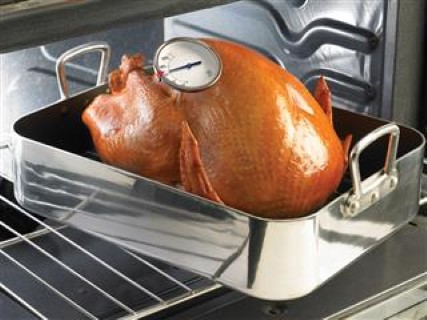 With Thanksgiving only a week away, most Americans are beginning to prep their meals for the holiday. This year, many shoppers may be a bit happier with what they find at the checkout register, as many Turkey Day staples are seeing lower prices than previous years.
For 2017, the average cost of a Thanksgiving meal for 10 people is $49.12, down 75 cents from last year, and hitting the lowest level since 2013, according to the American Farm Bureau Federation's annual price survey. Items that saw price declines include turkey, milk, rolls, pie shells, and sweet potatoes. Other miscellaneous items used to prepare the meal also experienced price drops, including coffee, butter, evaporated milk, onions, eggs, sugar and flour.
The Farm Bureau attributes the lower turkey prices to a large cold storage inventory, which is up almost double digits from last year. In addition, milk production has increased, resulting in continued low retail prices.
Despite these lower prices, 9% of consumers plan to eat Thanksgiving dinner away-from-home in 2017, jumping from 6% in 2011 but remaining relatively flat from 2016, according to the National Restaurant Association, reported Forbes (Nov. 15). Of those eating away-from-home, 31% would pick a restaurant they regularly go to, and 32% would pick a restaurant they go to on special occasions. Only 16% would try a new restaurant for the holiday.
Of those consumers that are planning to eat at home, 9% plan to buy parts of the meal that are already prepared, and 4% plan to buy the whole meal, either from a meal kit company or something prepared locally. Many local stores and restaurants have noticed this trend and are offering their own Thanksgiving meal specials. New York City deli Zabar's is offering a dinner for 10 for $375, while New Orleans' Brigtsen's has a carryout menu including file gumbo with chicken and andouille sausage for $17 a quart, dirty rice for $15 a quart, and sweet potato pecan pie for $32.
If none of those options suit your fancy, snack makers are even offering their own options for lovers of the food-focused holiday. Jelly Belly launched its Holiday Favorites box for 2017, which includes flavors like hot chocolate, pumpkin pie, and cranberry sauce, while Kellogg's introduced its Pringles Thanksgiving Dinner, offering eight flavors like turkey, mashed potatoes, stuffing, cranberry sauce, creamed corn, green bean casserole, mac & cheese and pumpkin pie.
However you plan to celebrate the holiday, The Food Institute wishes you a happy Thanksgiving! (Note: The Food Institute offices will be closed on Thursday, Nov. 23 and Friday, Nov. 24)