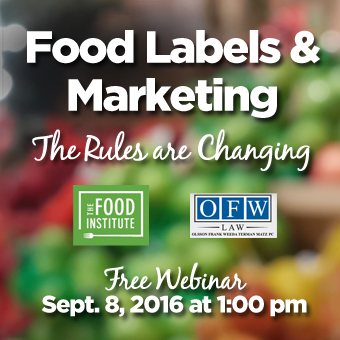 In May 2016, FDA published the final rules for its new Nutrition Facts label for packaged foods. This is the first major overhaul of the labeling panel in over 20 years, and it poses a challenge for many companies trying to determine how they must proceed. Manufacturers will only have until July 26, 2018 to comply with the final requirements, while manufacturers with less than $10 million in annual food sales will have an additional year to make the changes.
It has never been more important to understand FDA's food labeling requirements as it is today, and because of this, The Food Institute and OFW Law will present a free webinar on the impact of FDA's new Nutrition Facts label regulations on brands and marketing strategies. This pre-conference webinar, to be held on Thursday, Sept. 8, will examine recent changes in FDA's rules, and prepare participants for the full day food labeling course on October 26, 2016. The webinar will be hosted by labeling expert Bruce Silverglade, Principal, Olsson, Frank, Weeda, Terman, Matz, whose practice includes resolution of competitive disputes involving food labeling and advertising claims, proactive responses to FDA regulatory proposals, management of class action lawsuits, FTC and FDA enforcement actions challenging food advertising and labeling, compliance with the Food Safety Modernization Act, implementation of FDA nutrition labeling regulations, matters concerning economic adulteration, and federal nutrition policy.
At the succeeding U.S. Food Labeling Seminar in Oct., attendees will receive a deeper look into the new Nutrition Facts label requirements, as well as a full overview of all aspects of food labeling. Other topics will include: mandatory label information, allergen labeling, country of origin marking, nutrient content claims, health claims, natural and organic claims, menu labeling, and GMO/non-GMO labeling. The event will be held on October 26, 2016 from 8:30am-5:00pm at the Newark Airport Marriott in Newark, NJ. This seminar will also be led by Silverglade, who will be prepared to answer attendees' pressing questions.
A recording of the webinar will be sent to all registrants, as well as a copy of the presentation slides, so make sure to sign up even if you can't make the live event! If you have any other questions about either event, please conact me, Jennette Zitelli, at 201-791-5570 x. 215 or jennette.zitelli@foodinstitute.com.