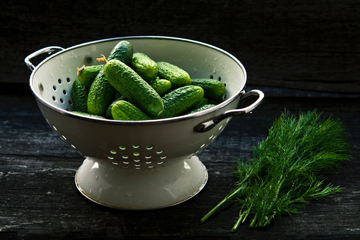 While unicorn frappucinos and avocado toast get most of the attention on social media, there are other foods coming on to the scene that may deserve more notice. Pickles seem to be having a renaissance of their own, with new creations such as pickle soda and pickle pops appearing in the industry.
Grandpa Joe's Candy Shop, which features locations in Pennsylvania and Ohio, has gone viral with its newest offering: Pickle Juice Soda produced by Rocket Fizz. The drink is made with real cane sugar, not corn syrup, as well as pickle brine. The polarizing beverage has been a sensation on social media, with reactions and early reviews including "interesting," "ehhh," and "kind of a funky combo," reported Delish.
Rocket Fizz is no stranger to odd soda flavors, as it previously released items such as Butter Flavored Soda. But this pickle drink is part of a larger trend of pickle-flavored everything, including candy canes and even sushi. Frozen pickle juice may be the next big pickle trend, according to David Millar, co-founder of Bob's Pickle Pops. He argues that frozen pickle juice products are perfect for hot summer days and that kids enjoy the product. And he has at least one competitor in Pickle-Ice, suggesting this market is beginning to open.
The product has been popular in Texas and the Southwest, but Bob's Pickle Pops is the first to bring such an item to the retail market. They can be found in about 1,800 Walmarts throughout the region, reported Forbes.
Aside from pickles, the food industry is also seeing some interesting trends in the protein market. While insect-based proteins have been popular in the news lately, other unique proteins are also beginning to pop up. Mainly ones that stem from a need to eliminate particular breeds of pests.
A Louisiana slaughterhouse specializes in butchering feral hogs, working with farmers to reduce the destructive animal. Springfield Slaughter House's owner, Charlie Munford, got into the wild boar business in 2015, after working for some time providing more traditional meats to restaurants. The pigs cause the state $76 million-plus in annual damage, but now Munford is selling sausage to grocery stores and meat to restaurants, where chefs are turning it into prosciutto, chorizo and meatballs.
Farmers must bring the feral pigs to the slaughterhouse alive, because they need to be inspected before slaughtering. Munford has processed around 1,000 wild pigs in the last year. Springfield Slaughter House is the only state-inspected facility that sells wild boar, offering 20 pound boxes of cuts such as hams, shoulders and bellies for sale to restaurants, reported Washington Times.
Maryland is taking a similar approach to combating the northern snakehead, an invasive fish species native to Asia. The species was introduced to the state when a pet owner dumped hundreds of mostly juvenile snakeheads in a pond, and despite eradication efforts the fish spread throughout the state. To deal with the issue, Maryland is encouraging people to eat snakehead, offering commercial licenses and causing the annual harvest to rise to 4,320 pounds in 2016 from almost zero in 2011.
The white fish has a mild taste and holds up well to a variety of flavors and seasonings, though the small catch means the meat remains expensive. Cooking with snakehead is becoming popular in certain restaurant circles, with the fish's menacing reputation adding to the appeal, reported The Wall Street Journal.