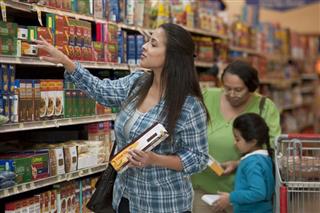 Packaging is one of, if not the, most important parts of a brand. It is the first thing customers see when they approach a product in the store, and in many cases, it can be the sole reason one item is picked over another. However, it can be difficult for companies to predict what customers will prefer (even after conducting studies and tests), and what once worked well for years, may no longer cut it. It also sometimes takes a bit of trial and error to get it just right.
Ferrara Candy Company, which has been around since the early 1900s, recently released a new packaging design for its Red Hots and Now and Later candy brands. It also updated the flavor offerings to appeal to Generation Z and Millennials, which it says are more interested in hot and spicy flavors and chewy formats. The new packaging offers a more modern take on the classic brands, which Ferrara notes has indeed helped sales. COO Jamie Mattikow reports, "Now and Later sales are currently up 13% and Red Hot sales are up 7% compared to the overall non-chocolate confectionery category which is posting at +4.4%."
The Coca-Cola Co. is also working to update its packaging, in an effort to unite its four main brands: Coca-Cola, Diet Coke/Coca-Cola Light, Coke Zero and Coca-Cola Life. The new packaging features the iconic Coca-Cola "Red Disc," with just a small section at the top distinguishing each brand. The new packaging is only available in Mexico for now, but similar versions of the Red Disc graphics will reach additional countries throughout 2016 and into 2017.
The company tested the new packaging for 18 months in 14 countries with various iterations of the design. It ultimately landed on this Red Disc design, which the company says first appeared in the 1930s on hand-painted Coca-Cola advertising. The rebranding is part of the company's "One-Brand" strategy, as well as its "Taste the Feeling" campaign.
Ferrara and Coca-Cola's changes have been successful so far, but sometimes it's not that simple. Celestial Seasonings launched new packaging for its tea products in August 2015, but the consumer response was not quite what the company hoped for. Its bagged tea dollar sales trends did not improve in the third quarter of 2016, and research showed customers were confused by the new packaging. This even led some customers to choose a different brand of tea. As a result, Celestial Seasonings will revert back to it's old design by September 2016, in an effort to reclaim its lapsed customers.
John Carroll, EVP and CEO of Hain Celestial U.S., notes the company hopes the change will "recharge" the brand's business. It sees tea as an important category for its growth going forward. Carroll also mentioned that packaging is not the only thing that will bring customers back to the brand. "Package is just the starting point. It's reminding people why they buy Celestial tea, the strong emotional relationship they have with the brand because look, this is not just another brand of tea."
Carroll is right, packaging is not all there is to a brand. But it certainly is important.