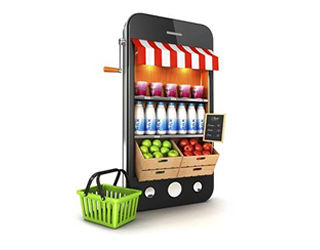 Industry analysts seem torn on whether or not online grocery will really be the future of food retailing. New food delivery companies keep emerging and expanding, supermarkets are all adding their own e-commerce services and online retailers are expanding into the grocery market. But is all of this innovation really worth it? Or are companies just jumping on the bandwagon in an effort to stay competitve, when online grocery is just a fleeting trend?
Let's start with retailing giants Walmart and Target. Target has been focusing on its grocery business for a while now, hoping to win over customers with its unique offerings and natural, organic products. It also plans to spend close to $1.8 billion in 2016 on capital projects, with the bulk going to e-commerce and supply chain improvements, according to Fortune. Then it plans to bump that spending up to $2 billion a year starting in 2017. One of the top priorities for CEO Brian Cornell is improving its somewhat flawed e-commerce site and continuing beefing up its mobile shopping app.
Walmart, on the other hand, has been seeing sales decline, in part due to its lacking e-commerce efforts amid strong performances from Target and online retailers like Amazon. It is focusing its efforts on improving its online grocery service and expanding it to more of the U.S. In its fourth quarter fiscal year 2016 conference call it noted its main e-commerce goals going forward are to continue building a digital relationship with customers, scale its online assortment, and expand online grocery.
As it stands now, it looks like online grocery is an important market for the industry. A new report from Brick Meets Click found that one in five customers bought groceries online in the previous 30 days before they were surveyed, compared to only 11% who were asked that same question just two years earlier. Additionally, 41% have tried online grocery shopping at some point. Specific product shopping is the most common type of online food shopping at 61%, followed by major grocery shopping at 15%, and subscription-based shopping at 12%. However, subscription-based shoppers are the most likely to be repeat customers with that same retailer. Brick Meets Click notes that "online grocery is no longer a niche behavior," adding that "the number of households shopping online is increasing rapidly, and active users of online grocery services are spending a significant percentage of their weekly grocery dollars online."
While that is good news for the current state of the online grocery industry, some analysts are not convinced that the long-term outlook is as positive. HSBC retail analysts "remain unconvinced of long-term viability of home deliveries for grocery," adding that while online retailing "may be glamourous and exciting for those involved in it," consumers value lower prices over convenience, reported Business Insider. HSBC analyst David McCarthy backs this belief with the fact that online grocery is only growing at half the rate of discounters that aren't online, like Aldi and Lidl.
BMO Capital Markets seems to agree with this, with its report finding that the majority of customers still do not want to shop for groceries online. The main issue they found was not as much price, but rather that customers prefer to pick out their groceries themselves, valuing the ability to check the ripeness of their produce or the quality of their meat.
It is still too early in the game to tell if online grocery will become as important as traditional brick-and-mortar retail, but it is clear that retailers can't just use the same-old online retailing formats. Successful companies will offer customers more than just the convenience of e-commerce, as many other factors go into shoppers' purchase decisions.