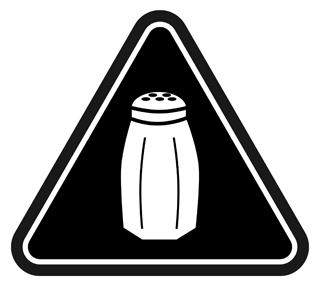 When eating at a restaurant, diners have a lot of decisions to make. What kind of food do I feel like eating? How much do I want to spend? How healthy do I want my meal to be? Some of those questions may be easier than others to settle, but one is increasingly getting help from regulatory officials. There are a lot of proposals in place to make sure consumers can make healthy choices when eating out, such as calorie labeling on menus or limits on sugary drinks, and they are usually met with a bit of resistance from the restaurant industry.
New York City's sodium labeling law is no different. The city put a rule in place in December 2015 that requires restaurants with 15 or more locations to place a salt shaker symbol next to menu items that have more than 2,300 milligrams, which is the recommended daily limit. The law was set to go into effect today, March 1, 2016. After it was passed, The National Restaurant Association (NRA) filed suit against New York City's Board of Health arguing it "lacks authority to enact such a mandate." The NRA also said the regulation is "arbitrary and capricious" and "filled with irrational exclusions and nonsensical loopholes." The association claims the sodium labeling law undermines FDA's federal menu-labeling law set to take effect in December 2016, which will require chain restaurants to provide nutrition information on request, including sodium content.
Justice Eileen Rakower of New York state Supreme Court upheld the law after NRA's suit, saying it does not limit the use of sodium, it just gives consumers information about what they are eating, reported Crain's New York Business. Rawoker noted, "Some people just love salty foods, and they're going to go ahead and eat those foods regardless of whether they have a salt icon next to them. It's not a ban. It's information. It's a warning."
The city planned to start issuing fines today, March 1, and violators could face as much as a $200 fine for each infraction. However, Justice David Friedman granted the NRA's request for a hold on the mandate, while it appeals the ruling. The NRA's regulatory counsel said it is "pleased" by the decision as the mandate is "unlawful and unprecedented." It says it "look[s] forward to a full and fair opportunity to make [its] case before the Appellate Court."
A panel of appellate court judges will next decide whether or not to grant the NRA's motion for a preliminary injunction of the mandate's enforcement, after which an actual appeal of the case will be heard.