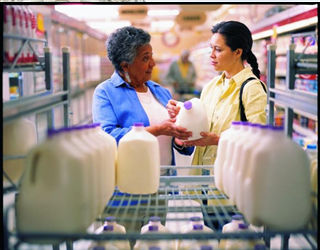 Dairy milk has become a difficult business to be in, as American consumers are flocking more to non-dairy alternatives. Some do so for allergy reasons, but most believe the alternatives are healthier, and in some cases, better for the environment.
Sales of U.S. dairy milk dropped as much as 7% in 2015 and are projected to drop another 11% through 2020, according to research from Mintel. The shift is driven by negative health perceptions, lowered retail prices, declining exports and a growing number of non-dairy alternatives. This led to a rise in sales of these non-dairy alternatives, which saw a 9% increase in 2015, reaching $1.9 billion.
Almost half of Americans consume non-dairy milk, with 46% drinking it every day. Children may be a driving factor in its popularity as 68% of parents and 54% of children under 18 consume it, and 69% agree that non-dairy milk is healthy for kids (although admittedly, 62 percent also say the same about dairy milk).
However, dairy milk is not devoid of supporters. Over 90% of Americans drink dairy milk, but it is most commonly used as an addition to other food or as an ingredient, so only 57% drink dairy milk by itself. Eighty-one percent of consumers say that dairy milk is free of additives, compared to only 62% for non-dairy milk. The top attributes consumers look for when purchasing dairy milk are natural and vitamin/mineral content, while 21 percent look for organic options. Also, 86% of consumers view dairy milk as fresh compared to 63% who say non-dairy milk is fresh.
Non-dairy milk could grow even more in the future with the addition of more health benefits. Thirty percent of Americans say they would drink more non-dairy milk if it had more protein and 18% would drink more if it had beauty benefits like skin and hair health.
Those added nutritional benefits are sometimes hard to find in milk alternatives, but new company Ripple may have solved that problem. Ripple is made using peas and has eight grams of protein, which is the same amount as milk from cows, as well as more potassium and vitamin D, a third of the saturated fat and 50% more calcium. While all of that is certainly positive, the real reason Ripple was formed was to make milk production more sustainable than traditional milk and even other alternatives. Ripple says its milk uses 96% less water than almond milk, 99% less than dairy milk, and 76% less than soy milk. Its carbon footprint is also 93% smaller than dairy's.
Ripple was created by Adam Lowry, who is the cofounder of Method, the sustainable soap brand. It took a year to develop the milk product that has all of the nutrients from peas, without its taste and color. The company describes its milk as "rich, creamy, and satisfying" as well as "gentle on your body and the planet." It will be available at Whole Foods Markets starting on May 2, but it plans to expand more from there.