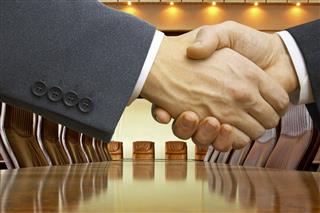 The start of the new quarter is usually a busy time for companies as things reset a bit and the end of the year looms closer. These past few days have been particularly lively in regards to the merger and acquisition landscape of the food industry.
The first three deals, although they technically were announced at the very end of September, represent three big moves for manufacturers and distributors. Alcoa's Board of Directors approved the separation of the company into two independent, publicly-traded companies. The first, Arconic, will be a provider of high-performance materials and engineered products to the aerospace, automotive and other growth industries, while the second, Alcoa Corp., will be produce bauxite, alumina and aluminum products. The separation is scheduled to become effective on November 1.
Archer Daniels Midland Co. (ADM) purchased the assets of Caterina Foods, a manufacturer of specialty gluten-free and high-protein pastas. The acquisition will expand ADM's ability to produce specialty pasta made from legumes and grains other than wheat, including corn, lentils, peas, rice and quinoa.
US Foods agreed to acquire Jeraci Foods, an Italian specialty distributor. Jeraci offers both imported and domestic products to customers throughout the metro New York area, and the deal will enhance US Foods' penetration in the Italian independent restaurant and pizzeria segment. Jeraci's New York location will remain open through the end of the year, then the business will shift to the US Foods location in Perth Amboy, NJ.
Moving on to October 1, Rouses Markets acquired nine LeBlanc's Food Stores locations in the Baton Rouge, LA, area, reported The Advocate. The deal will give Rouses 54 locations, and the chain's plans for the new stores include remodeling, expanding the perishable and seafood departments and adding rooms to boil seafood.
On Monday and Tuesday, Oct. 3 and 4, two more deals were announced by Green Plains Inc., Grey Mountain Partners. Green Plains Inc. acquired SCI Ingredients Holdings Inc., and its wholly owned operating subsidiary, Fleischmann's Vinegar Company Inc. from Stone Canyon Industries for $250 million. Fleischmann's Vinegar operates seven manufacturing facilities in Alabama, California, Illinois, Maryland, Missouri, New York, and Washington and four distribution warehouses in Oregon, California, Texas and Canada. In addition, Grey Mountain Partners acquiredKronos Foods, a Mediterranean food manufacturer and distributor. Kronos sells products including gyro meat, pita, flatbread, filo products, hummus and sauces to foodservice clients in the U.S. and Canada.
Lastly, Bai Brands LLC, a maker of low-calorie drinks with antioxidants, is exploring a sale, according to people familiar with the matter, reported Reuters. The deal could be valued at more than $2 billion including debt. Dr Pepper Snapple Group Inc. owns a minority stake in Bai, but previously noted that acquiring the entire company would be too expensive.
This is just the beginning of the end-of-the-year M&A activity that likely will pick up soon. For more information about food industry M&A, register for The Food Institute's free webinar "Private Equity Involvement in the Food Industry," featuring speakers from BMO Capital Markets, WeiserMazars and Mulhern Food Advisory.