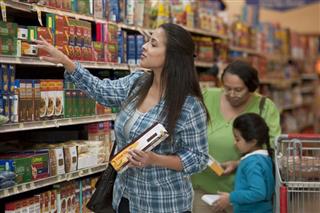 Millennials in America now add up to about 75 million people, which is definitely a sizable chunk of the consumer market. They (myself included) are a notoriously fickle bunch, that place a lot of importance on sustainability, traceability and creativity. While we have noted that too much emphasis may be put on appealing to Millennials, when there are other demographics that are just as influential, it is important to still keep track of what Millennials are buying and what might keep them as loyal customers.
America's Millennials are now purchasing organic products more than any other demographic, according to the Organic Trade Organization's (OTA) U.S. Families' Organic Attitudes and Beliefs 2016 Tracking Study. Fifty-two percent of U.S. parents that buy organic products are Millennials, and they often purchase a lot of such products. Generation X parents buying organic products only totaled 35% of the total, while Baby Boomers accounted for only 14%.
Laura Batcha, CEO and Executive Director of the OTA, notes. "Our survey shows that Millennial parents seek out organic because they are more aware of the benefits of organic, that they place a greater value on knowing how their food was grown and produced, and that they are deeply committed to supporting a food system that sustains and nurtures the environment."
OTA surveyed more than 1,800 households across the country with at least one child under the age of 18. The study found 82% of U.S. families say they buy organic sometimes, with only 18% noting they never buy organic.
Millennial shoppers aren't just shaping organic food buying, but food shopping overall. Three-quarters of shoppers buy deli items in their regular supermarket, while 77% of people buy dairy items and 59% buy bakery items, according to the Private Label Manufacturers Association's (PLMA) How America's Eating Habits Are Changing. One third "always or frequently" purchase heat-and-eat food from the supermarket, 29% buy pick up prepared or ready-to-eat food, and 27% buy grab-and-go prepared food items.
These eating habits are being driven by Millennials, according to PLMA, who are shaping the way grocers operate by introducing a distinctive way of eating. Eating is largely unscheduled for the generation, and they look for on-the-go food items. They are known to be nibblers and experimenters, so in-store sampling and demonstrations are popular. Millennials are also more loyal to stores than previous generations, with 90% doing their regular grocery shopping in only one or two stores.
These trends aren't limited to America, either. Millennials are leading online grocery shopping sales in Europe as they increasingly opt for the stress-free and time saving convenience, according to Mintel. Almost half of Germans aged 16 to 24 shopped online for groceries from a retailer with physical stores in the six months prior to the firm's survey, as did 46% of those in Spain, 44% of those in Poland and 33% of those in France. Millennial shoppers find online grocery shopping to be less time consuming, and they also find it to be easier to stick to a budget when shopping online.
However, there are some concerns among the age group about the freshness of online foods, with 51% of Polish and 50% of German shoppers aged 16 to 24 saying they are concerned about the quality or freshness of products when using online services. Minimum spending amounts are also a turn-off, as well as waiting for delivery.
While companies should make sure to keep all demographics in mind when marketing and designing products and services, Millennials are a huge cohort and an influencer of other generations' habits, so it is still important to keep their needs in mind when introducing new ideas.