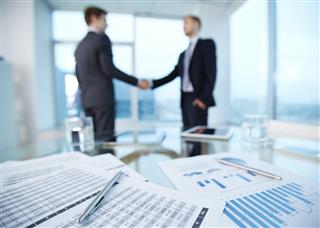 Mergers have certainly been ramping up in the past few months, as The Food Institute recorded 256 deals in the first six months of 2016, after a relatively slow year in 2015. This is a 24.3% increase from the same period last year and only three deals shy of the six month total from 2014, which was a banner year for M&A.
Just in the past two days alone (Aug. 1 and 2), we have reported on nine mergers in the food industry. First is Bevolution Group, which acquired Dr. Smoothie Brands. Dr. Smoothie sells smoothies and beverage powders to coffees houses and restaurants, complementing Bevolution's portfolio of shelf-stable and frozen cocktail mixes, juice products, teas, lemonades, sports and energy drinks, slushies, enhanced waters and thickened water. This is Bevolutions' third acquisition in the last 16 months, and it plans to continue to "search for additional M&A opportunities to enhance [its] market position, expand product offerings and grow [its] geographic presence," according to chairman Alex Guiva.
Kettle Cuisine acquired Del Monaco Foods, a custom soups, sauces and other specialty item manufacturing company based in Morgan Hill, CA. This is the second acquisition completed by Kettle Cuisine since being acquired by Kainos Capital in August 2015.
The Kroger Co.'s analytics subsidiary 84.51° merged with Market6, a predictive analytics company. With Market6, CPG suppliers will have a single provider for Kroger specific product movement data and customer insights to better understand customer preferences. In 2015, Market6 began partnership with Roundy's to develop a new collaboration portal for the chain's merchandising team and CPG suppliers.
Sense Technologies Inc. will acquire Scribner Natural Products. Scribner is an industrial food and feed products company in Scribner, NE, where it operates a growing soybean crushing mill. Scribner's production facility receives bulk shipments of raw soybeans and processes them into premium soy products, which are used in a wide variety of animal feed products, human food products, fertilizers and other agriculture-related products.
Production Services International and BevSource will merge into one company under the BevSource name. The merger combines the operational services delivered by Production Services International with the sourcing capabilities of BevSource to provide client companies with a full range of services in developing beverage ideas.
Hearthside Food Solutions acquired Oak State Products, a contract manufacturer of cookies, bars and other baked foods located in Wenona, IL. The Oak State production facility brings the Hearthside production network to a total of 24 facilities. The acquisition will enable Hearthside to add baking capacity as the demand for food contract manufacturing continues to grow.
Blue Harvest Fisheries LLC acquired Hygrade Ocean Products Inc. Hygrade is a Massachusetts-based processor and distributor of scallops, cod, and other fish products. Following the acquisition, Blue Harvest will market and distribute Blue Harvest-landed scallops, bluefin tuna, and swordfish directly to customers. Blue Harvest has operations in Newport News, VA, and Fairhaven, MA, owns a fleet of 15 scallop vessels, and is an active participant in the bluefin tuna and swordfish fisheries.
Internationally, food companies were busy with acquisitions as well. Just Eat sold its businesses in the Netherlands and Belgium to Takeaway.com for $25.2 million, reported TechCrunch. The sale was due to underperformance in the two markets, and fits Takeaway.com's strategy to strengthen its leading position across much of Continental Europe.
Pioneer Food Group acquired UK snack maker Streamfoods for about $10 million. Pioneer's acquisition will leverage its UK private-label portfolio and its recently upgraded manufacturing capabilities with Streamfoods fruit shapes, fruit flakes, yogurt fruit flakes, yogurt raisins and school bars products, reported Business Day.
Though not a finalized deal, Italy-based Ferrero also submitted a bid for Belgian biscuit maker Delacre through one of its subsidiaries, reported Reuters. The deal would allow Ferrero to enter and grow in a new market, according to the company.
For more up-to-date coverage of food industry mergers and acquisitions, subscribe to our daily Today in Food newsletter and The Food Institute Report, and search our Mergers Database.