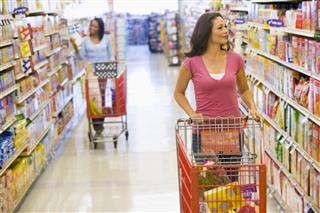 People love a good comeback story. Not just as the plot of a cheesy movie, but also for their favorite food products. When an item makes its way back on the shelf after a long hiatus, consumers get excited. However, companies seemingly have good reasons for removing products in the first place, with reasons ranging from "the item was too time consuming to assemble" to "it wasn't selling like we thought it would." So what makes them bring it back to market, and is it always a good idea?
When businesses announce that a product will be available again, it is usually met with excited headlines like "M&M's Crispy are coming back!" and "Prepare Yourself for Crystal Pepsi's Comeback," but how do these revivals come about? In the case of General Mills' French Toast Crunch, it was buyer support and insistence that sealed the deal. After the cereal was discontinued in 2006, a Facebook campaign was started to resurrect it in the U.S. and received over 9,000 backers. General Mills even said it was inundated with calls and emails asking to bring the beloved product back. So in 2014, it decided to heed the requests of its fans and put the product back into production. Mars experienced a similar bout of consumer passion about its M&M Crispy candies, saying it was one the top requested items for the company to bring back.
While some comebacks are due to nostalgia and consumer requests, others might be because an item is more suitable for today's consumers than when it was originally released. Pepsi's Crystal Pepsi was originally debuted in 1992 and was not particularly popular. While it has gained a following of fans who asked Pepsi to bring it back, its return may also be due to the "no artificial flavors and colors" movement. Other beverage companies have been removing their artificial coloring to appeal to modern tastes, so it is possible that Pepsi believes its clear soda with have more success with today's consumers.
In some cases, companies may be responding to the online presence of their products. Some discontinued items are so beloved and missed, that people will pay top dollar for them online. Crystal Pepsi can be found on Ebay for a whopping $500 for three 2-liter bottles, while boxes of French Toast Crunch imported from abroad were going for $200. While it's no longer necessary to pay such prices for those items since they are back on (or soon to be back on) shelves, other products are still hot commodities. Betty Crocker's Rainbow Chip frosting, Cinnamon Tic Tacs, mango-flavored Altoids and Kellogg's Frosted Hot Fudge Sundae Pop Tarts are all being sold on Ebay as well.
The comeback trend isn't limited to just manufacturers either. Burger King is no stranger to the menu item revival, such as when it brought back its Yumbo sandwich from the early 70s. But a more recent menu return has been proven to be quite a success. The chain began selling its popular chicken fries again in March and they have been reporting sales increases ever since. Analysts believe the jump is due in part to the item, which received numerous consumer requests for a comeback, and even a Change.org petition. It also launched a new menu item inspired by the popular product, fiery chicken fries. According to the company, the new items are a response to "fans who demanded a chicken fry renaissance on social media."
It certainly seems like the popular thing to do, but do you think it makes good business sense for a company to bring back nostalgic products? Or are some things better left in the past?