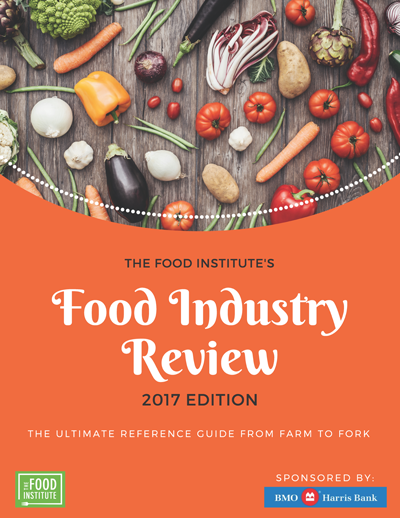 Every year, the Food Institute staff spends three months scouring the top food industry developments from the past year to compile into one, comprehensive year-in-review. This flagship publication, which turned 31 this year, has established itself as the go-to resource for the whole industry.
This year's edition, The Food Industry Review 2017, delves into some of the biggest stories to impact manufacturers, retailers and foodservice operators this year, such as Amazon's acquisition of Whole Foods Market, fast casual restaurants eclipsing full service sales, the growth of private label brands, and the implementation of FSMA. Other chapter topics include:
Consumers Increasingly Invested in E-commerce
Millennials Drive Snacking Trend
Discount Grocers Begin Their Push from Overseas
Dollar Store Expansion Continues
Restaurants Clean Up Their Menus to Appeal to Modern Diners
Chatbots Emerge as a New Portal for Customer Interaction
Plant-Based Foods Move to the Top of the Food Chain
What's the Next Big Specialty Food Trend?
New Product Launches Strong Since Recession
(Take a look at the Table of Contents for an overview of all topics covered.)
Split into 11 chapters, such as retailing formats and restaurants and foodservice, this report makes it easy to focus on one sector of the industry, or get an all-inclusive review of the industry as a whole. It is published in a fully searchable pdf format, allowing readers to type in key words that interest them, such as pizza or Aldi, and find the stories that most pertain to their business.
The Food Industry Review also includes excerpts from our Food Business Mergers and Acquisitions and Demographics of Consumer Spending annual reports, which feature exclusive data and analysis from the Food Institute.
If you're looking for information on the status of any sector of the food industry, or are a new company hoping to gain a better understanding of the industry as a whole, there's no better place to start than with the Food Industry Review 2017.