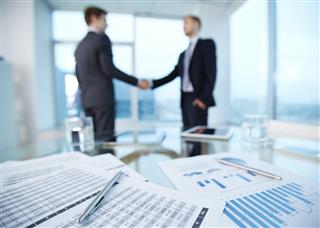 Small, specialty food manufacturers and innovative, artisanal restaurants are more popular than ever, and food industry investors have definitely taken notice. It can be extremely difficult for a new company to get started, especially in the food industry, and crowdfunding campaigns, incubators and food-based venture capital funds are popping up left and right to support this growing business.
Food incubators are a particularly popular way for food startups to get their foot in the door, as most provide a manufacturing space, industry consultants, and other support. Specialty food store Lakewinds Food Co-op in Minnesota and nonprofit the Good Acre are teaming up to start a local, artisanal food incubator called Maker to Market. The yearlong program works with manufacturers, farmers and retailers to help launch product ideas. Participants will have access to a commercial kitchen and local produce. They will also receive consulting support about their brand, packaging, design and retail. To be eligible, companies must be a local or regional food producer that does not already have a presence in retail, reported St. Paul Pioneer Press (Jan. 10).
Glen Falls, NY, is also looking to launch a food incubator program as part of its efforts to revitalize the downtown area. The program would dovetail with the region's agriculture industry and bring exposure to Glens Falls as products from the town are sold across the country, reported The Post Star (Dec. 18, 2016). Sarah Yackel, a consultant to the revitalization committee, hopes the program could "get Glens Falls out on the map as the the place for 'craft foods.'" The program would likely be located above a proposed year-round farmers market that some are dubbing a "food hub." Participants in the program would be able to use a processing and canning kitchen planned for the farmers market.
Another trend is established food companies creating venture capital funds to invest in up-and-coming companies and industries. Unilever, Tate & Lyle, Coca-Cola and many others have started their own funds to invest areas they believe could help their company in the future. Kellogg Co.'s fund, eighteen94 capital, recently led a $4.3 million Series A funding for Kuli Kuli, a manufacturer and distributor of moringa-based products. Kellogg made the investment to back a new superfood category, one it believes has the potential for ongoing high-growth. Moringa is a plant protein that can provide a good source of iron, calcium, Vitamin A, and other nutrients. Kuli Kuli produces Moringa Superfood Bars, Pure Moringa Powder, Energizing Moringa Herbal Tea, and Moringa Green Energy shots. This is the first investment by eighteen94 capital, which focuses on companies pioneering new ingredients, foods, packaging and enabling technology.
Former McDonald's CEO Don Thompson launched his own venture capital firm, Cleveland Avenue, which is focused on building and growing food, beverage and restaurant ventures. Its first original concept is Drink, a nonalcoholic beverage bar in New York City, a concept which it plans to expand in the future. It also invested in Washington, DC, fast-casual restaurant HalfSmoke, along with other undisclosed investments in the industry, reported Crain's Chicago Business (Jan. 11).
While there are already a wealth of food startups entering the industry every day, they still seem to appeal to investors time and time again. CB Insights estimates that over $1 billion has been invested in food startups and projects in 2016 alone, reported Forbes (Dec. 14, 2016). So why are food companies so popular? Supermarket Guru Phil Lempert attributes it to food's "potential to make a positive impact on the world." Companies that solve a problem, are health driven, or socially conscious, are all targets for investors.