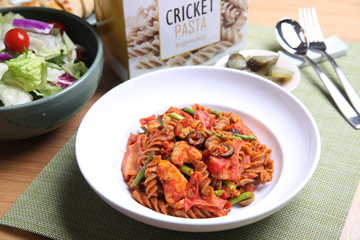 Insects as the next major source of protein may seem like an off the wall idea, but the food industry is actually closer to that reality than you might think.
Insects have slowly been gaining traction as a viable food ingredient, and some experts claim they will be a necessity to maintain food security in the future. The United Nations estimates that sustainable food production will have to increase by 70% to be able to feed the world's population, and bugs will need to be a critical source of protein, reported NPR (Sept. 14). Obviously, it will likely take some convincing to get the majority of consumers to try eating bugs, but the growing industry is hoping all the benefits will outweigh the ick-factor.
At the Brooklyn Bugs festival in early September, the focus was on education, and a lot of emphasis was placed on getting kids on board with eating insects. Robert Nathan Allen, president of the nonprofit Little Herds, has faith that once the idea of eating bugs is more normalized, it will become a regular food ingredient. "Eating insects is so stigmatized. It's thought of as barbaric. But our grandparents in the United States once thought sushi was disgusting. This movement is just getting started. It's a fledgling industry."
Other countries seem to already be more open to the idea, as Swiss supermarket chain Coop began selling mealworm patties and balls at seven stores on Aug. 1, reported New York Post. The edible bugs are produced by Swiss startup Essento, with the burgers made from mealworms, rice and vegetables, with oregano and chili added for flavor. The balls contain mealworms, chickpeas, onions and garlic, and their suggested serving method is wrapped in pita like falafel.
Their sale is being made possible by recent revisions to Switzerland's food safety laws, which now make it the first European country where insect products can be sold to the public. The mealworms were bred under specific conditions for four generations to become ready for human consumption, and adding the insect-based products to Coop's shelves is the result of a three year partnership between the companies.
The Netherlands-based Protix is also doubling down on the industry with its acquisition of Fair Insects, a consortium of breeders of mealworms, crickets and locusts for the food industry. Through the acquisition, Protix will be more able to offer more products that include protein rich foods, meat replacements and health beverages. In the next two years, Protix plans to increase the production volume of these new insects and develop new products for the conscious consumer.
Even Ikea is getting in on the insect action, adding insect protein producer Flying SpArk Ltd. to its Ikea Bootcamp startup accelerator, reported Food Ingredients First (Sept. 5). Members of the accelerator get access to IKEA's prototype shop, test labs & innovation development and a $23,000 grant to spend on developing their product.
Flying SpArk plans to expand its offering, adding other species of flies and additional insects as well. It has previously tried to create a few food applications such as meatballs, nuggets, pastry, pasta, milk-like drink, tofu-like, health bars and cookies. It says Millennials are the early adopters of insect protein, but it is getting interest from all types of consumers and food companies looking for alternative protein sources.
Interested in learning more about insects as protein and how they could become the next major food ingredient? Join our free webinar on Oct. 11 with Lee Cadesky of One Hop Kitchen Inc. Register here (Can't make the live event? Every registrant will receive a link to a recording of the webinar and a pdf of the presentation slides after the conclusion of the event.)