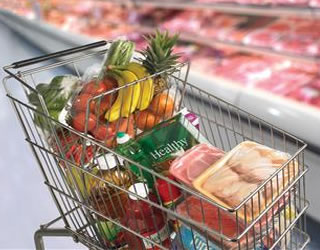 Each retailer operates its business differently. Some focus on improving e-commerce, others promote the in-store experience with remodels and amenities. It is sometimes hard to compare businesses and determine which model is more effective, but STORES Magazine and the National Retail Federation offer some insight.
The 2015 STORES Hot 100 Retailers list ranks retailers that had the greatest increase in domestic sales between 2013 and 2014. Many food retailers made the list, as supermarkets and apparel stores counted for almost half of the businesses. Among the top 50 were 99 Cents Only Stores, Amazon.com, Sprouts Farmers Market, Bi-Lo, Stripes Convenience Stores, The Fresh Market, Lunds Food Holdings, Care Pharmacies Cooperative, Casey's General Stores, Rouse's Enterprises, Grocery Outlet, and The Kroger Co. Bryan Gildenberg, chief knowledge officer at Kantar Retail, who provided the list data, pointed out that many of the Hot 100 supermarkets are growing core categories like natural and organic foods or ethnic products. He also notes that the largest convenience store chains (by store count) aren't featured on the list, and c-stores in general are seeing a shift from tobacco as the driving force of sales, to food items and foodservice.
One of the hottest segments for retailers is e-commerce, especially for food purchases. Amazon remained at the top of the list, as it has in past years, but other food e-commerce companies are starting to make their way into the sector. Data from Business Insider Intelligence shows only about 1% of food sales occur online, but a study from the University of Michigan Ross School of Business finds grocery e-commerce is growing about 15% a year. Food, mass and drug retailing is another popular segment, as even more established businesses are increasing their market share. Kroger is increasingly raising its same-store sales and opening more locations, while Walgreens improves its e-commerce presence and increases its footprint.
Two companies stood out on the list for their "Sustained Sizzle," meaning they have been featured on the Hot 100 Retailers list every year since it began in 2006. Amazon.com and Dollar Tree both have seen sustained growth, having annual average growth rates of 30% and 11%, respectively. Amazon is particularly successful because of its loyal customer base, with its Prime members spending about $1,500 annually on its site, more than twice that of a non-Prime shopper. Ryan Mathews of Black Monk Consulting also says Amazon is consistently successful in increasing sales because it finds weaknesses in various market areas and delivers a product to directly address that weakness.