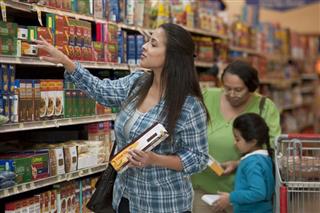 While Black Friday shopping is focused more on 4K TVs and PlayStation 4s than it is on food, it is still an important day for food retailers and restaurants. Not only because of the increasing interest in food gifts for the holidays, but also because of the role foodservice outlets play in Black Friday shopping. I myself purchased several food gifts and visited two restaurants with family and friends on Black Friday, and judging by how crowded those establishments were, I was not the only one.
Americans shopping on Thanksgiving and/or Black Friday spent an average of $373, including approximately $100 on dining and entertainment in a shopping center, according to The 2016 International Council of Shopping Centers' Thanksgiving/Black Friday Shopping Report. Of the shoppers who ventured out on Black Friday, or even on Thanksgiving, 68% participated in non-shopping activities. About $48 was spent on dining, 13% of total expenditures.
Small Business Saturday, which takes place the day after Black Friday, was also popular for restaurants, as customers shopping or dining at small businesses increased 13% from 2015, according to a survey from the National Federation of Independent Business and American Express. Eighty-one percent also reported encouraging their friends and family to shop or dine small on the day, on par with 2015. However, total reported spending for the day was at $15.4 billion at independent retailers and restaurants, a decrease from 2015.
Online sales on both Black Friday and Thanksgiving grew much more than brick-and-mortar sales, topping $5 billion, a 17.7% increase year-over-year, according to data from Adobe. Black Friday became the first day ever to drive over $1 billion in mobile revenue, increasing 33% from 2015. Mobile accounted for 36% of online sales, and large retailers (defined as those in Internet Retailer's Top 100) have seen twice the growth in online sales compared to small retailers since the beginning of the season. While most of these sales were for non-food items, businesses such as Amazon, Walmart and Target that have a large presence on Black Friday can, and do, use this opportunity to drive sales of other products such as food gifts, holiday candy, and even traditional groceries.
While food gifting is still a relatively small category in the industry, it is expected to grow in the coming years. Packaged Facts estimates U.S. consumer and corporate food gifting sales will grow 3.5% in 2016, ranging from products like chocolate from Lindt & Sprüngli AG or Godiva, to savory treats from Hickory Farms, to gourmet food from Harry & David or Dean & DeLuca. Packaged Facts also expects personalized food gifts to become more popular, with 34% of those who have purchased a food gift in the last year reporting that they look for a food gift that has a special meaning for the recipient. Character licensing and playability are two key factors in for kid-focused food gifts, while snacks, sports and BBQ are popular for men, and seasonal color trends may appeal to women. During the 2015 holiday season, some 68 million consumers gave someone a specialty food gift, and even more are expected to do so this year.