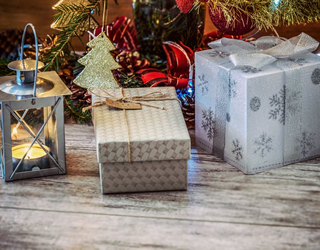 With Christmas and Hannukah only ten days away and many people already starting their holiday festivities, it seems like the perfect time to take a step back from our normal food industry news and focus on the holidays. So put on your Santa hat and spin that dreidel, it's time for FI Blog: Holiday Edition.
According to a survey from Cinnabon, cookies and milk may no longer be the perfect snack to leave out for Santa. Over 50% of professional Santas say they would like a warm cinnamon roll waiting for them by the tree, followed by chocolate chip cookies at 37%. Not surprisingly, only 8% of Santas chose fruit. Additionally, 42% would like a cup of hot chocolate with their snack, and 38% would prefer milk. In order to get this Santa data, Cinnabon surveyed more than 600 Santas from The International Brotherhood of Real Bearded Santas and The ClausNet Santa Claus Network (yes, those are both real things).
Meanwhile, a UK farmer did a bit of holiday-themed research of his own. He found that playing Mariah Carey's "All I Want for Christmas Is You" made his goats produce about 20% more milk, reported Modern Farmer (Dec. 14). Although this experiment sounds like just holiday optimism, it may be rooted in actual science. Studies have found that music with certain melodies and rhythms can actually calm animals and make them produce more milk than they would under more stressful situations. While there haven't been any specific studies on Mariah Carey, Modern Farmer notes other research has been done on songs like Simon & Garfunkel's "Bridge Over Troubled Water," which increased milk production, vs. so-called "club music," which produced no effect.
Foodservice operators are getting in on the holiday fun too, including Burger King, which unveiled a rather unique holiday promotion. The restaurant is hosting a "Whopper Exchange" in which customers can exchange an unwanted holiday gift for a Whopper sandwich on Dec. 26. The bad news is, the program is only taking place at its Miami Beach, FL, restaurant and select locations across London and Brazil. However, customers can also post pictures on Twitter and Instagram of their not-so-great gifts, and they may get a "surprise" from the chain.
Even Starbucks, which is usually rather festive, went a little unconventional this year. First, it released its own "gingerbread cafe" kit in which customers can make an edible Starbucks shop with gumdrops, candy canes and tiny red cups. It also debuted a different holiday drink for 2016: the Fruitcake Frappuccino. The drink starts with a Hazelnut Creme Frappuccino and is mixed with dried fruit and cinnamon, topped with whipped cream, caramel dots and matcha. And to make the drink even more strange, Starbucks Rewards members will receive a free "ugly sweater" drink cozy with the purchase of the Fruitcake Frappuccino on Dec. 16 (which is National Ugly Sweater Day).
So now that you have your Santa snack picked out, your goats are happily listening to Christmas music, and you have your Fruitcake Frappuccino in hand, all of us at The Food Institute wish you a happy and safe holiday season!