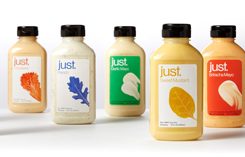 Target will no longer sell Hampton Creek products at its stores after allegations of food safety issues and mislabeling. The retailer, Hampton Creek's largest client, is not aware of anyone falling sick from the products, but alerted the Food and Drug Administration to the allegations.
Hampton Creek denies the allegations, claiming it has "robust food safety standards, and as such, we remain confident about the safety of all products we sell and distribute." Target sells 20 different Hampton Creek products, including Just Dressings, Just Cookies and Just Mayo, and generates about one-third of the manufacturer's retail sales, reported Fortune (June 23).
Unfortunately, the is just the most recent setback in a long line of problems for Hampton Creek since its inception. The company has dealt with issues over the right to call its products "mayo" even though they contain no eggs, a lawsuit from Unilever, which owns Helmann's Mayonnaisse, allegations that the American Egg Board was working to stop the company from threatening the organization's members' businesses, and claims that it was misrepresenting its sales and buying its own products from stores.
In addition, three senior managers at the vegan food startup were fired at the beginning of June, after an alleged coup attempt was uncovered. The company in May fired its chiefs of finance, operations and HR, and now three more staff members—the chief technology officer, the vice president of research and development, and the vice president of business development—have been dismissed for their alleged involvement in a plot to change the company's leadership, reports Eater SF (June 6).
Hampton Creek reportedly found out about the attempted coup from "concerned employees" and hired outside investigators who uncovered the senior managers' intentions. Their plans "never materialized," according to a statement from company representatives.
Hampton Creek has raised $239 million in funding, with a valuation of more than $1 billion; however, recent funding efforts have been less successful.