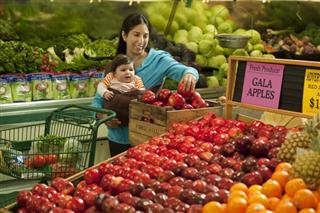 Grocery shopping has drastically changed in the past few years. Traditional supermarkets still have their place, but specialty stores, online retailers, and big box stores are rapidly moving in on supermarkets' turf. It is becoming increasingly difficult for retailers to differentiate and become successful in the industry.
We repeatedly talk about the impact of technology and how it is changing food buying. But if we put technology aside for a second, we will see that brick-and-mortar stores are creating just as much competition amongst themselves, especially in the highly populated and highly competitive New York metro area. Small, specialty markets argue it is difficult to gain market share and compete against the large chains, but some traditional chains says they struggle to keep customers from those specialty stores, which creates food deserts and makes it difficult for people to afford fresh foods.
Let's start by taking a look at the small retailers. Fairway Market, for example, recently revealed that it is experiencing "significant losses" and will need to raise more capital by April 2016 to avoid bankruptcy, according to a report in New York Post. It lost $35.7 million in the quarter ended Dec. 27, in addition to the $300 million it has lost over the past five years. Its revenue also fell 7% from a year earlier.
Its biggest competitors are Whole Foods Market, Trader Joe's and Stop & Shop, and it noted those larger chains have "more experience operating multiple store locations or have greater financial or marketing resources" than it does.
Other small New York retailers are crumbling under the competition, such as D'Agostino and Gristedes. D'Agostino, which has 11 locations, has been forced to close stores over the past few years and plans another store closure in Manhattan, while sales at Gristedes' 29 Manhattan stores dropped 7% over the past two years, to $191 million. Gristedes aims to revamp stores to gain back customers, but some believe the remodels may not be solely to improve traffic: it may be with an eye towards selling some locations.
However, things are not all positive for larger chains either. A&P went bankrupt in 2015, stores like Key Food and Associated Supermarket in New York City closed, and many other face a similar demise. This is not only a problem for retailers, but for consumers, because in many neighborhoods, affordable supermarkets are being replaced with gourmet grocers that are out of reach for many households, according to an op-ed piece in Crain's New York Business. This creates food deserts, which limit customers' access to fresh, healthy foods.
So if specialty grocers are struggling, and traditional retailers are struggling, who is succeeding? Well, mainly those companies that are able to offer something different, like Whole Foods Market and Trader Joe's which are known for their curated and unique products, as well as wholesalers and big box stores like BJ's Wholesale and Walmart, which offer low prices and bulk items, as well as natural and organic options. The most successful chains are able to strike a balance between specialty and traditional, affordability and exclusivity. Offering healthy, one-of-a-kind products, delivery a unique experience, and also maintaining low prices.
Sound complicated and difficult to accomplish? That's because it is. No wonder so many chains are struggling.