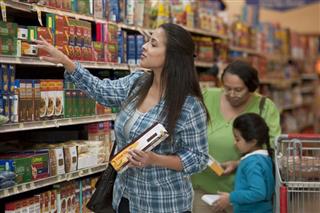 As the competition in the grocery sector heats up, retailers are being forced to lower prices and increase convenience in order to keep their customers from jumping ship in favor of another store. As more types of retailers successfully transition in to full-fledged food sellers, the competition will only get more fierce.
This threat is apparent to even the top retailers, as Walmart, long known as a low-price leader, is instituting price-cutting measures to compete with other chains. In areas like Indiana, Kentucky and Michigan, where Kroger is most popular, it has been lowering prices to compete with its rival, according to a Wolfe Research analyst, reported Supermarket News (Feb. 22). Walmart began lowering prices in North Carolina in summer 2016, and analysts note they are seeing even lower basket prices in Michigan, Indiana, and Kentucky this month than they saw in North Carolina.
The analysts point out that if Kroger plans to maintain a mid-single-digit price gap between it and Walmart, it may need to invest big bucks. Wolfe models estimate Kroger spent an incremental $450 million on lower prices in 2017 to stay competitive with Walmart. It also notes Dollar General, SpartanNash and Target could feel pressure from the chain's lower prices.
Walmart is also running a price-comparison test in at least 1,200 stores and asking packaged goods producers to lower their prices, reported Fortune (Feb. 27). The test was launched in 11 Midwest and Southeastern states such as Iowa, Illinois and Florida, specifically focusing on grocery items, which make up over half of the chain's revenue. It plans to find the right price point that will attract customers, and then adjust prices as needed. Analysts predict Walmart is looking to specifically fight against discounter Aldi, which has consistently reported lower prices than the big box store.
Sources also say Walmart is asking manufacturers to lower the prices they charge the chain for their products. It reportedly met with Unilever and Conagra Brands, asking them to reduce their costs by 15%. Walmart expects its suppliers to help it beat rivals on pricing 80% of the time.
As predicted by Wolfe analysts, it's not just Walmart that is feeling the squeeze. Target reported its third straight quarter of same-store sales declines this quarter, despite a 34% increase in digital sales, reported Fortune (Feb. 28). In order to combat this, it plans to launch 12 private label brands in the next two years (which may or may not be grocery items), believing they can fetch $10 billion in annual sales. It also plans to lower its prices on a slew of products to better compete with Walmart and Amazon.
Target has struggled to reinvent its grocery section as it promised, and consistently grapples with supply chain issues. CEO Brian Cornell noted in 2016 that it plans to focus more on the "pay less" portion of its slogan, which he says it has been neglecting if favor offering more interesting merchandise, or the "expect more" portion of its mantra.