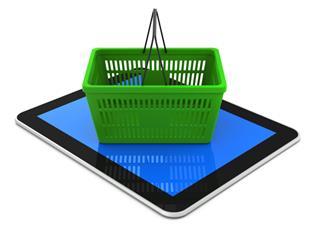 Digital ordering kiosks are all the rage, with restaurants from McDonald's to Panera installing tablets and touch screens to make the quick-service restaurant experience even more simple. These ordering systems make lines move quicker, enable more customization, and appeal to young consumers who prefer ordering from a screen rather than talking to an actual person.
One chain in San Francisco, Eatsa, even removed humans altogether, opting for self-service kiosk ordering and cubbies that deliver your food, so customers don't have to interact with any humans during the restaurant process at all. Foodie news site Eater predicts restaurants like this will be the wave of the future, with more technology integration and less human interaction.
Business Insider tends to agree, forecasting that another type of ordering technology will become more popular. Restaurant sales on mobile order-ahead platforms are expected to reach $38 billion by 2020, accounting for 10.7% of total QSR industry sales, according to BI Intelligence's 2016 Mobile Order-Ahead Report. It notes mobile ordering platforms have been known to intensify customer loyalty, increase purchase frequency, and lift average ticket sizes. BI Intelligence believes self-service kiosks are the gateway to mobile and online ordering popularity, as customers become more accustomed to less traditional forms of payment that don't require a cash register.
Softbank, MasterCard and Pizza Hut all seem to agree as well. The three companies are partnering to use Softbank's Pepper robot in Pizza Hut stores in the Asia-Pacific region as a replacement for digital ordering kiosks, reported TechCrunch. The robot will use the MasterPass digital wallet to check people out and customize interactions with customers based on past purchasing habits and consumer moods. Pepper will be placed in select stores starting in 2016, but if the test is successful, the companies expect to roll out the robot to more restaurants and markets.
This venture may be a way to bridge the gap between customers who prefer a fully automated experience at quick-service restaurants, and ones who prefer some human interaction. Customers who want to choose their order quickly and be on their way will be able to do so, while those who would like some more help and communication can get that from Pepper. It may take some time for diners to get used to a robot cashier, though, that's why MasterCard chose the Asia-Pacific region for the test, because Pepper has already been used for customer service experiences in the area, building some familiarity among consumers. MasterCard VP Tobias Puehse does note that the robot will not replace human employees, saying it "is complimenting the experience. It's not meant to replace human interaction."
While it still may be some time before we see any robot restaurant workers here in the U.S., it is an indication that any foodservice outlets that haven't incorporated technology into their business yet, may want to seriously consider doing so. It is only a matter of time before "no technology" means "no customers."