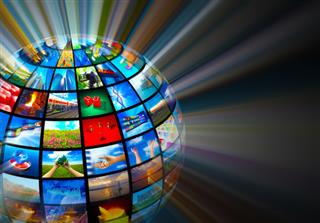 Companies tend to make headlines more for negative developments like foodborne illnesses or dropping sales, but that has been slowly changing. Food businesses are realizing that consumers want to support companies that make a positive impact on their communities, the environment and on employee and animal welfare. That's why now a number of manufacturers, retailers and restaurants are becoming well-known for their positive corporate policies and social responsibility efforts.
Nestle, Coca-Cola, PepsiCo, Walmart, McDonald's, Starbucks and CVS Health were some of the food-related companies to top Fortune's Change the World list. The list recognizes companies that have had a positive social impact through activities that are part of their core business strategy. The list prioritizes companies with annual revenues of $1 billion or more, and is compiled in partnership with FSG, the Shared Value Initiative, and Professor Michael E. Porter of Harvard Business School. The companies are rated by three factors: measurable social impact, business results, and degree of innovation.
Nestle was recognized for sourcing locally, boosting developing economies and the livelihood of smallholder farmers in more than 50 countries. It also has worked to purge slavery and child labor from its supply chains and cut fat, sugar and sodium from thousands of products, while fortifying many others with essential minerals and nutrients that are in especially short supply in low- and middle-income countries.
Coca-Cola made the list for its 5by20 initiative, a program that turns impoverished women into entrepreneurs. The program partners with local government organizations and multinational non-governmental organizations to create market-specific programs that will benefit different kinds of women. An study of the program's participants in South Africa saw an average of 44% growth in business sales, while women farmers in Kenya saw their average incomes increase by 140% over the course of a four-year program.
The list featured McDonald's because the company "uses its scale for good." Fortune makes note of its transition to offering only cage-free eggs and adopting a stricter antibiotics policy with its chickens. It also removed artificial preservatives from its McNuggets and high fructose corn syrup from its hamburger buns, which the magazine says "is bringing the fast-food behemoth closer in line with how consumers today are eating."
Starbucks was featured for teaming up with Feeding America to develop the infrastructure to donate unsold food, with the goal to deliver 50 million meals by 2021 to local food banks. It's also opening 15 stores in low-to-medium income urban areas, as part of broader goal in conjunction with over 40 other companies to employ 100,000 disadvantaged youth by 2018.
While these efforts to give back to the community and improve the lives of customers and workers may not be completely selfless (Fortune notes in the case of McDonald's that CEO Steve Easterbrook is betting that changing its food and customer perceptions will help revive the company), it may signal a greater shift in the overall food industry that will lead to businesses of all sizes working towards greater social responsibility. And that will most likely only bring good to society, regardless of the companies' ulterior motives.