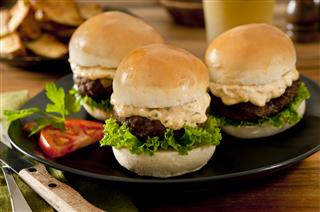 Foodservice spending is rising because of increased food and operation costs, but that has not translated into more restaurant visits, according to The NPD Group. Foodservice operators are trying to get consumers to dine out more, but four out of five meals are still prepared and consumed at home.
NPD's research found annual per capita foodservice visits were down 3 visits per person per year from 2013 in the year ending April 2015. Young consumers are the most likely to visit restarants, but consumers aged 25 to 34, who are now starting families of their own, made 50 fewer visits per person per year over the past few years. Consumers aged 18 to 24 also ate 33 fewer visits per person per year in 2014 from 2007. Millennials keep increasing at-home meal consumption, as they ate 8 more meals at their homes in 2014, while all other age groups ate one more meal.
Millennials still spent more than other age groups at restaurants in recent years, though, according to the Food Institute's analysis of the most recent government data. Millennials spent $50.75 weekly for food consumed away-from home in 2013, while Baby Boomers spent $47.67. Based on this data, if Millennials continue to spend that larger percentage of their income away-from-home as they move into the 35-44-year old bracket, they will be adding an additional $6 billion yearly eating at restaurants and other foodservice places than their predecessors, sans inflation.
Consumer confidence is increasing, and nonessential categories, such as dining out, are expected to increase 27% over the next five years, according to research from Mintel. Restaurants that offer high quality food with local, organic, or antibiotic-free ingredients will especially see the uptick in sales. Consumers are improving their finances and balancing spending rather than cutting out spending categories all together. Almost one in five consumers plans on spending more month-over-month, pointing to increased spending in 2015, which Mintel forecasts will increase by 3.9%. U.S. consumer expenditures overall grew 22% from 2009 to 2014 and are expected to grow slightly more over the next five years.