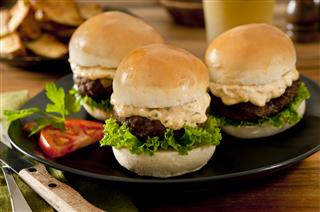 While most sports fans wouldn't say food is the main reason they gather to watch their favorite teams, it does play a major role in the experience. Stadiums have been updating their food offerings and planting their own vegetable gardens, while professional athletes are even investing in and partnering with food companies. But no sports event is more synonymous with food than the Big Game.
American consumers will spend an estimated $14.1 billion for the Big Game, according to the National Retail Federation. While viewership for the game is expected to be about the same as 2016, spending is actually forecasted to decrease from last year's $15.5 billion.
Eighty percent of those planning to watch the game will purchase food and beverages, and approximately 12.4 million people will head to a bar or restaurant to view the game, while 45 million people plan to host a party. Most people do say watching the game is the most important part of the event, but 24% cite the commercials, 15% like hanging out with friends, and 12% watch for the half-time show. Even though commercials are a big part of the day, only 10% say they influence them to purchase products.
That fact may be disappointing to many food companies, as several firms are placing a lot of weight on these ads. Mars Inc. plans to air a live commercial for its Snickers candy during the game this year, reported AdAge (Jan. 25), while PepsiCo is using the opportunity to push its premium water brand, Lifewtr, reported Reuters (Jan. 24). While Kraft Heinz isn't airing an ad this year, it isn't staying completely out of the spotlight. It launched a Change.org campaign to make the Monday after the game a new national holiday, so viewers will have a day to recuperate after a night of partying, reported AdWeek (Jan. 25).
Meanwhile, one of the most popular foods to eat during the Big Game is chicken wings. Americans are expected to eat approximately 1.3 billion chicken wings during game, up 2% from 2016, according to the National Chicken Council. Most wings will be sold from foodservice establishments, with only 25% sold through grocery stores. Millennials aged 18 to 24 are projected to eat approximately 61% more wings than other age groups.
This small bump in wing consumption could be attributed to this year's competing teams. According to the NPD Group, the consumers in the Northeastern U.S., home to the Patriots, eat 12% more wings on average than other U.S. regions, while those in the South, or Falcons country, eat 13% more.
So even if your team didn't make the cut this year, you can always bury your sorrows in chicken wings.