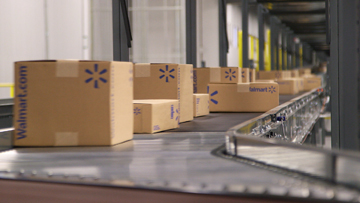 Tesla generates a lot of press for its groundbreaking technology and stylish electric cars. However, it hasn't been much of a trending topic in the food industry... until now.
Several food businesses began making headlines when they started placing reservations for Tesla's new electric Semi truck, which Tesla dubbed "the safest, most comfortable truck ever." The Semi has up to a 500 mile range, energy consumption of less than 2 kWh/mile, and an estimated $200,000 in fuel savings. It offers enhanced autopilot to help avoid collisions, a centered driver position to provide maximum visibility and control, and a low center of gravity for rollover protection.
Walmart was one of the first to announce its preorder of 15 Semi trucks last month, five of which will be used for Walmart U.S., while 10 will be for Walmart Canada, reported CNBC (Nov. 17). Anheuser-Busch also made a reservation for 40 Semis, one of the largest orders of the truck at the time. It plans to use the trucks for shipments to wholesalers within 150 to 200 miles of its brewery locations, reported St. Louis Post Dispatch (Dec. 7). "At Anheuser-Busch, we are constantly seeking new ways to make our supply chain more sustainable, efficient, and innovative," said the company's senior director of logistics strategy. "This investment in Tesla semi-trucks helps us achieve these goals while improving road safety and lowering our environmental impact."
Sysco Corp. upped the ante by placing a reservation for 50 of Tesla's Semi trucks, making the announcement at its Investor Day in New York. Sysco's president and chief operating officer said the order, "reinforces Sysco's commitment to Corporate Social Responsibility by reducing the environmental impact of our operations. In addition to the positive environmental impacts, we will also benefit from reduced fuel and maintenance costs and drive associate enthusiasm with the introduction of new and unique technology."
Lastly, PepsiCo Inc. took it even one step further and reserved 100 of the trucks, the largest-known order of the vehicles to-date, reported Reuters (Dec. 12). It plans to use the Semis for shipments of snack foods and beverages between manufacturing and distribution facilities and direct to retailers within the 500-mile range.
The trucks are a key part of PepsiCo's plan to reduce greenhouse gas emissions across its supply chain by a total of at least 20% by 2030, according to Frito-Lay's senior director of North American supply chain. The company is currently analyzing what routes are best for the electric vehicles, but it anticipates a wide range of uses for lighter loads like snacks or shorter shipments of heavier beverages.
The Tesla Semi truck is expected to be released in 2019.