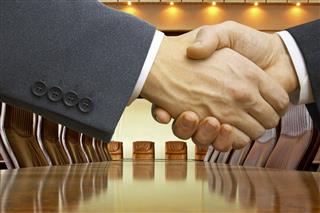 With less than two months left in 2016, we are beginning to get a clearer picture of what the status of the M&A market was like for the year, and we can start to see what may be coming in 2017. In the first nine months of 2016, The Food Institute recorded about 400 mergers, just shy of 2015's full year total of 410.
As I noted previously, the end of the year tends to be a busy time for M&A in the food industry, and can boost full-year totals significantly. Let's take a look at some of the deals in the sector in the past few days to get a sense of what may be coming in the next few weeks.
Foodservice distributor Ben E. Keith Co. acquired MenuMax, a recipe and menu management software company. MenuMax offers a cloud-based recipe and menu management system that assists in organizing and planning menus, calculating food costs and nutrition and maximizing efficiency. Ben E. Keith plans to continue to service its current MenuMax customers, as well as offer and expand the brand and services for all foodservice users.
Private investment firm Highlander Partners LP acquired Hillside Candy. Hillside is a manufacturer and marketer of a broad variety of organic, sugar-free and traditional confection products under the GoOrganic, GoLightly, Pick Your Color and Hillside Sweets brands. Ted Cohen will continue serving as president of Hillside.
As part of a deal to open 50 new restaurants over the next eight years, Parikh Network LLC purchased 18 restaurants from Arby's Restaurant Group Inc. in the Baltimore, MD, and Harrisburg, PA, markets. Parikh Network began in the franchise business in 2006 and now has a portfolio of more than 100 quick service restaurants.
Provisur Technologies, a food processing equipment company, acquired select assets of both BFD Corp. and Netherlands-based AMFE B.V. AMFE produces separation equipment used for beef and pork, while BFD provides all sales, installation and support for AMFE equipment in North America. The activities of BFD and AMFE will be combined under Provisur's Separation Business Unit.
CTB Inc. acquired the Volito Group B.V., a designer and manufacturer of cage-free layer housing systems, with three locations in The Netherlands. Volito's core products include aviary and nest systems for commercial layers, nest systems for layer breeders and rearing systems, as well as egg collection equipment, slats and perches.
Hamra Enterprises purchased 25 Wendy's restaurants in the greater Chicago area. The sale is part of an effort by Wendy's to pass on more of its company-owned restaurants to franchisees. When the deals are complete, Wendy's will own just 5% of its restaurants. This purchase brings Hamra's total number of Wendy's restaurants to 90, reported Chicago Tribune (Nov. 7).
Italy-based Sabelli acquired a 79% stake in mozzarella maker Trevisanalat from private equity fund Alto Partners. The deal makes Sabelli Italy's third-largest mozzarella producer. Trevisanalat generates over 12,000 tons of cheese annually at two facilities, while Sabelli generates 14,000 tons at one factory, reported European Supermarket Magazine (Nov. 8).
Stay tuned for a full review of M&A activity in 2016, with our Food Business Mergers & Acquisitions 2016 report, to be released in March 2017.