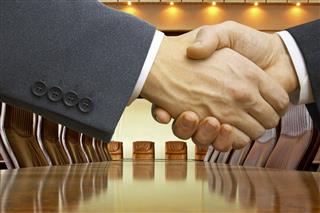 Food industry merger and acquisition activity reached 410 deals in 2015, about 18% lower than the year prior, according to Food Institute's Food Business Mergers & Acquisitions 2015. Even though 2015's totals were lower than the previous year, that does not mean companies were not busy. Rather, businesses continued to turn to larger deals with direct competitors.
Megadeals are becoming more popular as companies find the only way to keep their share of the market is to merge with the competition. "In nearly a third of industries, most U.S. companies compete in markets that would be considered highly concentrated under current federal antitrust standards, up from about a quarter in 1996," reported The Wall Street Journal. Additionally, of 1,700 public companies operating in both 1996 and 2013, 62% had a bigger share of their market at the end of the period than at the beginning. This has created more interest from antitrust authorities, because while less competition may be good for some companies, it can drive up prices and block competitors.
As always, the largest category for food industry acquisitions was food processors. The category saw 135 deals in 2015, a 15.6% decrease from 2014. Some of the most notable acquisitions in the sector, besides the massive Kraft Heinz merger, included Snyder's-Lance Inc.'s acquisition of Diamond Foods Inc., Post Holdings Inc.'s purchase of MOM Brands Co., and TreeHouse Foods' acquisition of ConAgra Foods' private label operations. Seafood processors were also noticeably more active in 2015, taking part in almost as many deals this year as in the previous five years combined.
The Kraft Heinz merger was one of the most talked about deals of the year, not only among processors, but in the whole business industry. The transaction created the third largest food and beverage company in North America and the fifth largest food and beverage company in the world, according to the companies.
(See related: Kraft Heinz Company Makes Waves During its First Year in Business)
Retailers were also busy in 2015, with a total of 76 mergers, six more than the previous year. Some of that activity can be attributed to A&P and Haggen, which sold many of their banners and assets after filing for bankruptcy. Convenience stores also were active with 36 mergers, the most since 2010.
Restaurants saw a little over half the acquisitions in 2015 as compared to 2014, decreasing to 36 deals. Chanticleer Holdings, Food Management Partners and Kahala Brands were the most active, with Chanticleer acquiring two burger chains, Food Management buying Catalina Restaurant Group and Ovation Brands, and Kahala purchasing the Pinkberry, Planet Smoothie, Tasti D'Lite and Maui Wowi brands.
For more detailed information about food industry M&A across over 25 categories, take a look at our Food Business Mergers & Acquisitions 2015 report. The report offers an up-to-date, all-inclusive glimpse into the many deals that defined mergers and acquisitions in 2015 as well as what may follow in 2016.
Additionally, you can attend our free M&A webinar on March 15, "Will Food Industry Mergers and Acquisitions Ever Slow Down?," featuring Brian Todd of The Food Institute, David Schoeder of The Food Partners, and Michael Johns of BMO Capital Markets. Sponsored by BMO Harris Bank.