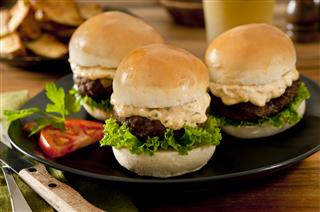 Food halls are one of the biggest trends in the industry right now; a mix of high-end food court and specialty food market. It seems every city is getting their own version, with many of the biggest chefs signing up for the opportunity to develop one. One of the most anticipated halls may be Bourdain Market, the brainchild of celebrity chef Anthony Bourdain, which is expected to bring authentic Asian street food to America. However, there are many other projects in the works that are sure to draw crowds.
Food halls are already popular in large cities like New York, Los Angeles, and Chicago, with about 35 to 40 food halls overall in the U.S., according industry consultant Aaron Allen. He estimates there could be as many as 200 across the country in just three years, reported The Modesto Bee (June 22).
The recently opened DeKalb Market Hall is now one of New York City's largest food markets, with 40 vendors selling everything from pickles to pho. The 60,000-sq. ft. underground space in Downtown Brooklyn features an outpost of Katz's Deli, as well as several stands from Foragers Market and newcomers Fulton Landing Seafood and Pierogi Boys. Cuzin's Duzin, a local doughnut seller that existed for 44 years before its last location was torn down, will reappear in the space, along with locations of Cafe d'Avignon, Wilma Jean, Ample Hills Creamery. The market will feature full-service restaurants with branches of Han Dynasty and Fortina, as well as a Trader Joe's market, reported The New York Times (June 12).
The owners of the Cipriani Italian restaurant in New York plan to open a food market on the Upper West Side of Manhattan. It signed a lease to open a 28,000-sq. ft. food hall with a market, restaurants and fast-casual options. The expansion is located at Two Waterline Square, a condo development of luxury buildings at 30 Riverside Boulevard from 59th to 61st Streets, reported Eater (June 20).
Time Out Group is planning a gourmet food hall in Chicago, which will offer stalls to bars, restaurants and shops and retain a percentage of vendor's sales. The hall is part of an attempt to expand the concept used for Time Out Lisbon to other cities, reported Chicago Tribune (June 2). The 75,000-sq. ft. Lisbon location opened in 2015 and attracted 3.1 million visitors in 2016. The Chicago market, though smaller, could house 15 food stalls. Time Out plans to open food markets in Miami Beach, FL, London and Porto, Portugal. The company is also considering locations in New York, Boston and more.
Manhattan's Canal Street Market also has a new food hall offering edible goods from more than a dozen vendors, including established favorites and new ventures, reported DNAinfo (May 15). Fresh&Co, Billy's Bakery, Davey's Ice Cream, Boba Guys (boba milk tea), ilili Box (Mediterranean), Ippudo Kuro-Obi (ramen), The Izakaya/Samurice (Japanese), Oppa (Korean), and Uma Temakeria (sushi burritos) are among the established vendors, and new vendors include Nom Wah Kuai (Chinese) and Lulu (smoothies). The food hall also includes CSM Lab, which will host restaurants on a rotating basis and invite chefs to launch new concepts in the temporary space. The first concept to launch is Petee's Pie Company, a Lower East side bakery.
While most food hall developers focus on urban areas, like New York and Chicago, one restaurant consultant believes idea can be successful in suburban areas as well. Rob Polacek, Chief Creative Officer and Partner at Puccini Group, believes the future of food is in fast casual establishments featuring community gardens, communal dining, and meals by local purveyors, reported Business Insider (June 20). Polacek imagines re-purposing vacant fast food locations to create what he calls "suburban food halls." The locations would serve food that focus on regional fare, such as a menu revolving around blue crab in Maryland. The design of each hall would also differ based on the location. The halls would also feature community gardens, cooking classes, galleries for local artists, and communal dining at beer garden-style tables. It could also feature a program similar to supermarket co-ops in which residents could periodically work to receive discounts on the food.