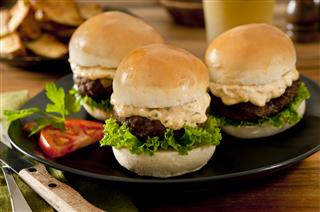 Whether you've noticed or not, there's a price war going on between the top quick service restaurant chains (QSRs). Customers are becoming more critical of the foods they eat, and value is definitely becoming an increasingly important factor in purchasing decisions. QSRs are realizing that in order to win back customers, or retain the ones they still have, they need to offer a price point that attracts diners. And after one company begins offering more value, others are quick to follow suit in order to compete.
Back in October, Wendy's released a new value menu, called the 4 for $4 Meal. It features a Jr. Bacon Cheeseburger, chicken nuggets, small fries, and a small drink for $4. Soon after this was announced, McDonald's said it would launch a McPick 2 menu early in 2016 (it started being offered in stores on January 4), which lets customers choose 2 items, including the McDouble and McChicken sandwiches, small fries, and mozzarella sticks, for $2. More recently, in what seems like a direct one-up on Wendy's offering, Burger King released a 5 for $4 deal, which includes a bacon cheeseburger, small fries, a small drink, four piece chicken nuggets and a chocolate chip cookie for $4. All three chains said the menus will be available only for a limited time, depending on customer feedback.
Quick service pizza chains are also getting in on the action, as Papa John's launched a buy-one-get-one promotion at the end of 2015 and Pizza Hut released its own value menu. Customers at Papa John's who order a large pizza will get another large one-topping pizza for 50 cents. They will also be able to add the chain's new dessert option, the Brookie (a mashup of a brownie and a cookie), for $6. In response, Pizza Hut debuted its $5 Flavor Menu, which features a medium one-topping pizza, eight boneless wings, a Hershey's Chocolate Chip Cookie, Hershey's Triple Chocolate Brownie, Tuscani Pasta, a double order of breadsticks or flavor sticks and four 20-oz. Pepsi beverages for $5 each when ordering two or more.
In the past few years, QSR chains have been trying to boost sales by removing their dollar menus and replacing them with general value menus that have items for a variety of prices, such as McDonald's Dollar Menu and More and Wendy's Right Price Right Size Menu. However, that tactic has backfired, as customers reacted poorly to those options, and sales growth has been slow. In a 2014 Bloomberg piece, John Gordon, principal at San Diego-based Pacific Management Consulting Group, noted that Americans can be very price sensitive, and any change can make them look for other places to eat. He said, "If you encourage and kind of seed the notion that you can come in for a couple bucks and get some food -- and then you can't do that anymore -- there's bound to be a reaction."
The problem is, restaurants can't sustain their businesses by selling one $1 cheeseburger to each customer. That's how these new value menus came to be. By bundling menu items, still each priced at $1 (or Pizza Hut's $5), it encourages each customer to spend more, while still offering the value they are looking for. In the case of Pizza Hut, it allows the chain to more directly compete with the low prices of Wendy's and McDonald's, while also encouraging customers to try more menu items than the usual pizza, as it is increasingly branching out into other areas, like pasta and chicken wings.