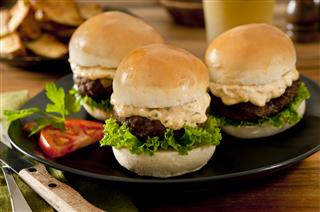 Fast casual restaurants have been the darling of the food industry for the past few years, as chains like Chipotle, Blaze Pizza and Panera are redefining what fast food should look like. However, as more and more fast casual chains start to emerge, and existing ones begin to make some missteps (I'm looking at you Chipotle), this segment may be reaching its saturation point.
Technomic's 2016 Top 250 Fast-Casual Chain Restaurant Report found cumulative sales for the top chains were up 11.6% in 2015, but that was a decrease from the 13.5% growth rate observed in 2014. Aggregate unit growth was also in line with the prior year at 9.6%. Moving to 2016, limited service fared better than full service restaurants, but even fast casual chain sales growth dropped under double digits for the first time in recent history, according to Technomic. Quick service chains saw sales growth of 3.7%, down from 4.6% in 2015 while unit growth was unchanged over the past two years. The NPD Group also found quick service restaurants realized no traffic growth in 2016 and total foodservice traffic dipped slightly. However, QSR consumer spending increased 3%, driven by an increase in average eater check size.
As affordability becomes more important to consumers, quick service restaurants are beginning to close the gap with fast casual chains, according to RBC Capital Markets. The report found that brand perception of large, traditional fast-food chains, like McDonald's, Burger King and Taco Bell, is improving compared with fast-casual chains, reported MarketWatch. Analysts note "consumers are now increasingly prioritizing affordability and taste after a previous rise in the importance of healthiness." Quality of ingredients is still important to customers, but RBC found that price is now also a driving factor.
While fast casual and quick service chains may be struggling to compete with each other, and with a more challenging foodservice landscape overall, there is one bright spot for the segment. New concepts that offer a different kind of cuisine or a new take on traditional flavors may be an area where the industry can grow. Just as Chipotle offered an accessible, quick and easy way for consumers to experience fresh Mexican food in an industry dominated by burgers and pizza, Curry Up Now is looking to do the same for Indian fare.
Curry Up Now acquired Tava Kitchen, an Indian quick service restaurant. The combined company will seek to expand nationwide. Curry Up Now will rebrand the Tava Kitchen location in Alameda, Calif., at the beginning of June. It will feature a completely open food assembly line where diners can see their food being made. The location will also serve as an innovation lab to test and launch new items as well as a national training restaurant.
Tava Kitchen is considered the first Indian quick service restaurant. Foodservice analysts predict Indian fast casual concepts will grow in popularity in the coming years, and Indian food is poised to become the "next big thing." Curry Up Now offers traditional Indian flavors and presents them in a more recognizable format, like the Tikka Masala Burrito and Deconstructed Samosa, as well as traditional Indian street foods like Pani Puri, Marwari Kachori Chaat, Papdi Chaat and Pav Bhaji & Vada Pav.