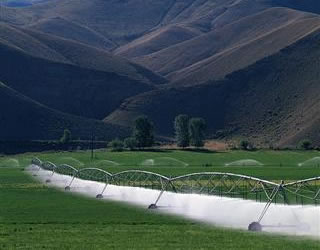 The past 12 months have been tough for farmers. Outbreaks like the avian flu have diminished poultry flocks, diseases like citrus greening hurt crops, and high temperatures and droughts across the country depleted resources. El Nino is proving to be yet another problem for farmers, even in drought-stricken California, where growers hoped the wet weather would help replenish water supplies.
California is experiencing a rather precipitation-filled winter, with high levels of rain and snowpack increasing reservoir levels. However, the past four years have been the driest on record in the state, and that has taken its toll. State water managers estimate it will need snowpack levels at 150% of normal on April 1 to signal the end of the drought. The state's largest reservoir, Lake Shasta, is still at half its historical average for winter.
Many officials are warning farmers that they still may not be able to supply irrigation water, and even though there has been precipitation, it is too early to tell how much water will be available in the spring. Lester Snow, executive director of the California Water Foundation, says the state needs to invest more in modern equipment to obtain more water, like systems to capture storm water runoff, recycle water, store and recharge depleted groundwater.
Weather forecast service T-Storm Weather also notes that high levels of rain at the end of the year historically signals that national corn and soybean yields will shrink in the coming year. As the president of T-Storm says, "If there was ever a year to be worried about corn and soybean yields in January, 2016 is that year."
Six out of the nine wet finishes to a year since 1960 have resulted in reduced yields in the next season. The 2016 trend yield for corn is 166 bushels, down from the 169.3 bushels forecast in 2015. T-Storm also forecasts soybeans at 45 bushels, down from a record 48.3 bushels last year. The time from September to December 2015 also had the second-highest temperatures on record, a sign that July and August will be hotter than average.
El Nino is also causing problems in countries besides the U.S. In South Africa, for example, crop and livestock forecasts are lower because of less rain and increased temperatures. A reduced agricultural output could have more implications that just disappointing farmers. It could greatly impact the country's food security in 2016, according to the Food and Agricultural Organization of the United Nations (FAO). The maize planting regions are already experiencing delays, and its main cereal producing regions have been officially declared drought areas. The subregional maize production fell by 27% in 2015, so another year of low yields could substantially hurt those already vulnerable to food insecurity.
Beyond southern Africa, FAO is seeing agricultural stress in northern Australia, parts of Indonesia and large parts of Central America and Brazil. Other parts of Africa are also feeling the impact of El Nino, with Ethiopia reporting serious crop and livestock losses.
FAO is already working to mitigate the effects of El Nino in various countries, providing drought tolerant crops, seeds and livestock feed and carrying out vaccinations. It is also working to rehabilitate irrigation systems, improve farmers' access to rural finance, and support wider use of climate-smart agricultural technologies.