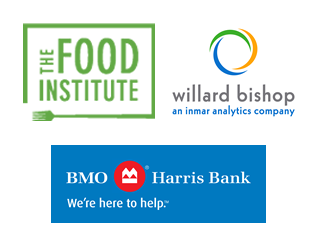 As the dollar share of traditional grocery retailers is expected to decline 0.4% and non-traditional grocery stores by 0.2% by 2020, e-commerce activity is seen ramping up and is projected to account for 10% of all grocery sales within ten years, according to data presented by Willard Bishop, an Inmar Analytics Company, at The Food Institute's webinar "Future of Food Retailing: Becoming Change Agents Will Keep Products and Stores Relevant." Currently, e-commerce is growing at almost 10 times the annual growth rate of brick-and-mortar stores.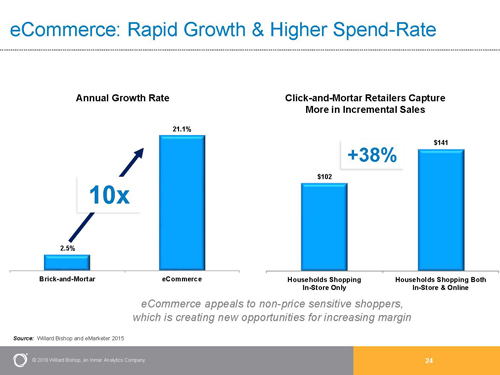 Traditional supermarket's share of sales will take the biggest hit, noted Jim Hertel and Craig Rosenblum of Willard Bishop, dropping 3.0 percentage points by 2020 to about 35%. Thus, the presenters urged grocers to become change agents and look carefully at their e-commerce presence and to avoid becoming a "denier" who may be forced to exit the business.
Currently, Willard Bishop estimates that e-commerce accounts for 4% of brick and mortar sales, averaging 100-200 orders a week in stores offering e-commerce, with a high of 1,000 per week. Distribution center -based programs are the most profitable platforms noted the presenters, with DC Pick, Home Delivery leading the pack. Store pick, home delivery and parcel models were the least profitable.
Click here to listen to the entire webinar and download a pdf of the presentation slides.