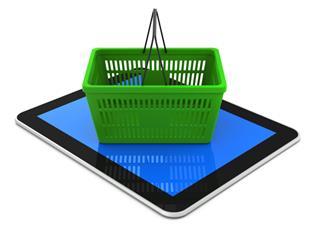 Online grocery is not a new concept anymore. Increasingly, analysts are seeing that the competition is not so much between traditional supermarkets and e-commerce, but between the plethora of online grocery services themselves. Traditional brick-and-mortar stores may always have a place in the food retail landscape because they offer a completely different shopping experience than online. However, the ever increasing number of online grocery services is creating a hyper-competitive market in which companies need to watch out for not just online supermarkets, but e-commerce giants.
Nearly half of U.S. online grocery trips go to Amazon, according to Brick Meets Click's The Supermarket Guide to Online Grocery Competition report. Since 2013, the percentage of shoppers that have bought groceries from Amazon in the past 30 days has gone up 25%. The report argues the primary threat to supermarkets online isn't direct competitors like Peapod, but online-only retailers and the online stores of mass and club retailers, which together capture 84% of all online grocery trips.
Brick Meets Click notes that while these "Basket Bandits" (Amazon and other online-only stores) are the entrance point for consumers who are just starting to explore online grocery shopping, business to these sites may decline as more online one-stop-shopping options become available. Amazon tends to be more popular in terms of overall service, considering aspects like payment, ease of finding items, product reviews, etc., while traditional supermarkets' online shopping is ranked higher in coupons and discounts. This makes sense as Amazon's sole focus is e-commerce, and if they couldn't do that right they wouldn't be the giant company they are. But supermarkets focus on quality and price, meaning that if they can improve their e-commerce sites and capabilities, their value may win over those shoppers from Amazon and other online-only retailers.
The report is optimistic that supermarkets can succeed in the online grocery landscape, if they make some important changes. They should offer online shopping experiences that are superior to other sites, or at least on par with them; deliver the blend of product and experience consumers are seeking, making sure that their online experiences complement the appeal of shopping in-store; and strike a balance between what's unique and appealing to customers, and what's familiar and expected.
As Amazon gets ready to offer its own private label products, it will be imperative that supermarkets can set themselves apart and show customers why their service is the best.
For more information on online grocery shopping and other challenges facing the food retail industry, join us for our free webinar, "Future of Food Retailing: Becoming Change Agents Will Keep Products and Stores Relevant," on May 18 with Willard Bishop and sponsored by BMO Harris Bank.