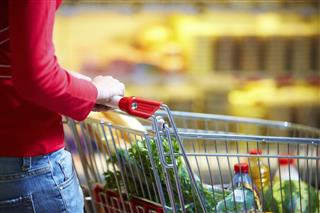 As a Millennial, I'm no stranger to the world of generational studies. Millennials have been pegged as everything from selfish and financially inept to creative and hardworking, and it seems a new study comes out almost every day to try to figure out what Millennials want. A quick Google search brings up a whole host of hyperbolic stories that claim to know what the generation is all about, such as "Poll: Millennials lack basic survival skills," or "Why Millennials Aren't Happy About Their Financial Prospects." While these stories are usually based in fact, they sometimes make assumptions that over-generalize the group or just plain aren't true. So it should come as no surprise that the following generation, Generation Z, is already getting the same treatment.
A study from the National Retail Federation (NRF) and IBM found that almost all members of Gen Z prefer to shop in brick-and-mortar stores. It polled members of the generation and determined that 67% shop in a brick-and-mortar store most of the time, with another 31% shopping in-store sometimes, indicating that 98% of Gen Z shops in store. The study also goes on to cite that 52% of Gen Z consumers will transfer loyalty from one brand to another if the brand's quality is not up to par and 66% believe product quality and availability are the most important factors when choosing one brand over another.
The NRF notes that these results are somewhat surprising, as most would expect that "the first 'digitally native' generation would want to shop online" rather than in stores. While that is partially true, Generation Z is probably the most tech-focused generation, I don't think shopping in stores can be completely deemed "what Gen Z prefers to do."
Let's take a step back. Gen Z is the youngest generation, spanning from being born in the mid-1990s to the mid-2000s. Some even categorize them as spanning from 2000 to today. That means the oldest member of Gen Z would be about 21 or 22, while the youngest could be just a few years old (or even months old). While the older members of the generation are just at the end of their college career and may be entering the workforce soon, most are still in school, and likely fully dependent on their parents. Most probably have a part-time job, or no job at all, and aren't responsible for the majority of their finances. They also probably don't have a credit card, or even a debit card. Keeping all of that in mind, one could conclude that it may not be that members of Gen Z prefer to shop in stores, but that they actually can't shop online.
With today's technology of mobile wallets and money sharing apps, shopping online has never been easier, but it is still pretty reliant on credit cards. It is likely much easier for members of Gen Z to ask their parents for some cash or use the income they do have to go to a physical store, than it is to get a hold of a credit card or a Paypal account. (There is also a little more independence in shopping at a store with cash than there is with using a credit card or Amazon account and giving your parents the ability to track all of your purchases).
Online shopping is also a convenience that Gen Z may have no need for at the time. According to a report from Capgemini Consulting's Digital Transformation Institute, four in ten consumers claim shopping in-store is a chore and a third say they would rather be at home washing the dishes. Members of Gen Z probably don't agree with the sentiment for two reasons: 1) Shopping is likely not a chore for them. They are not food shopping for a family or picking up light bulbs at the hardware store. Most shopping trips for consumers under 20 are social or for items for themselves, not to run errands. 2) They may be busy with school or a part-time job, but they probably don't need online shopping for its time-saving attributes. Juggling kids and a job and other responsibilities lends itself to the convenience of online shopping, but members of Gen Z are not quite at that stage of their lives.
It's difficult to make predictions about what kinds of consumers Gen Z will be, because they probably don't even know themselves. As the NRF and IBM study notes, it is probably safe to assume that technology will continue to be important to them, as they spend the majority of their time using it, and they expect retail tech experiences to be as seamless as possible. However, that is pretty much all we know, or should assume. Gen Z may prefer quality over value now, but that may change as they age. They may also develop more brand loyalty as they get older, when they have different needs and brand expectations. It's also possible that they really will continue to prefer brick-and-mortar stores into their 20s and 30s, and maybe this digital revolution we've all come to expect will fizzle out. But however Gen Z does develop as a consumer group, we may still need to wait a few years before we really know anything about them at all.