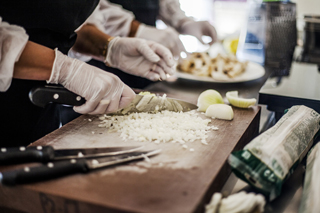 Supermarkets offering prepared foods is not a new concept, but the scale at which it is now done, and the quality that customers have come to expect, is increasing at a rapid rate. The "grocerant" is a new alternative to quick service restaurants, offering a way to bring home dinner for the family while also shopping for items to stock up the pantry. Despite all the positives of this growing trend, though, it has also created some headaches, mainly in the form of food safety issues.
Fresh prepared foods sales in supermarkets have nearly doubled since 2005, according to Technomic, and while that has resulted in more sophisticated meal offerings, it also created a need for more complex cooking and serving practices, reports The Wall Street Journal. This opened the door for more opportunities for food contamination. Stores like Whole Foods Market and Wegmans Food Markets that are known for their high quality prepared food sections have to juggle a slew of different cooking techniques and conditions to make sure their food is safe.
As The Wall Street Journal puts it:
"That chicken destined for a chicken biryani dish at the hot Indian buffet? Employees must cook it to at least 165 degrees for a minimum of 15 seconds to kill bacteria like salmonella that might be living on its skin. Rice bound for a cold Mediterranean pilaf salad must be cooked to 135 degrees, then cooled for two hours to 70 degrees, and chilled for an additional four hours to 41 degrees to prevent dangerous spores from growing and contaminating food."
Whole Foods Market was even forced to shut down one of its commercial kitchens due to a USDA warning over safety gaps. It is now changing its whole approach, including discontinuing the processing of meat, poultry and raw seafood in that kitchen and two others.
According to the latest data from the Centers for Disease Control and Prevention, outbreaks linked to U.S. supermarkets more than doubled from 2014 to 2015. Salmonella was the most common outbreak tied to stores, followed by norovirus. In response, more chains are introducing better training for employees, but employee turnover can be high at supermarkets and motivating busy employees to adhere to food-safety standards can be a challenge.
Even though the primary goal of food safety standards is to make sure your food is not making customers ill, it is also important for maintaining trust. Although customers are generally less concerned about food safety at supermarkets than restaurants, they are becoming increasingly wary. In 2006, 66% of shoppers said foods sold in supermarkets are safe, while in 2016 it has dropped to 58%, according to The NPD Group. This is still higher than the percentage of consumers who feel that foods served at restaurants are safe, but perception of safety at restaurants has remained, on average, between 47% and 49% since 2006.
"[Consumers] are now extending the concerns they have about the safety of foods served at restaurants to supermarkets," says Darren Seifer, food and beverage industry analyst at NPD Group. "Since groceries are taking on more of the role of a restaurant they are reaping the rewards as well as the risks that go with it."
Even as food safety becomes more of an issue, it is not necessarily a reason not to become a "grocerant." NPD data shows that in-store dining and take-out of prepared foods from grocers has grown nearly 30% since 2008, and accounted for 2.4 billion foodservice visits and $10 billion of consumer spending in 2015. In addition, over 40% of the U.S. population purchases prepared foods from grocery stores.
Considering this, do the risks outweigh the rewards? You be the judge.