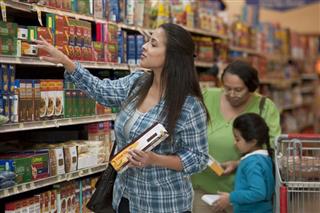 Discount grocers like Aldi and Lidl have been successful overseas for years with their low prices and no-frills attitudes. In the 12 weeks ending Oct. 8, 2017, Lidl continued to be Britain's fastest growing supermarket, up by 16%, while Aldi grew by 13.4%, according to Kantar Worldpanel. Aldi and Lidl collectively added $516.6 million in sales the quarter, accounting for half of the entire market's overall growth.
Both chains are hoping this success will carry over to their new U.S. stores, where they both have been quickly expanding over the past year. Discount grocers are expected to reach average annual sales growth of 15% between 2015 and 2020, up from 6% during the prior five years, according to Bernstein Research. However, analyst Alexia Howard warned in 2016 that the shopping experience may not resonate with Americans and "it might be hard to re-create their European" success, reported The Wall Street Journal (Oct. 16, 2016).
Now that we are a year out from that prediction, we can see that many shoppers have indeed embraced the discount format. Fifty-six percent of Lidl shoppers plan to shop there at least once a week, compared to 39% who planned to shop there at least once a week before the chain opened its U.S. stores, according to a report by Oliver Wyman. About 25.2% of first time Lidl shoppers previously used Walmart as their primary grocer, while 17.2% were Food Lion shoppers. However, Lidl still has a smaller share of the basket size, as 85% of shoppers at national grocers spend over $20, while only 58% spend that amount at Lidl.
The smaller format may not be the deterrent that analysts once thought, as consumers rank the company no worse on assortment than chains like Kroger and Walmart. More than two-thirds of shoppers were happy with Lidl's freshness and quality in the perishable assortment and felt it surpassed their expectations for the shopping experience and prices. However, 27% of first-time shoppers were disappointed with the store and not likely to become Lidl customers in the short term.
Despite this initial success, some analysts see Lidl's recent executive change in its overseas business as a signal of problems in the chain's U.S. expansion, according to reports from a German business trade newspaper. Michael Arnada, the former CEO of Lidl Spain, is expected to be appointed to a Lidl divisional board with oversight of the U.S., according to people familiar with the matter, reported Supermarket News (Sept. 27). The change was meant to address CEO Klaus Gehrig's concerns about the weak performance at some of Lidl's U.S. stores.
Nonetheless, U.S. spokesman Will Harwood said the Virginia-based division was "delighted" with its U.S. performance to date, saying performance so far has exceeded expectations.