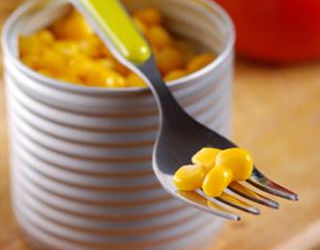 In recent years, consumers have become more vocal about what they would like, and more often not like, to see in their foods. This has led to a slew of moves by food companies to make major changes to their products in the hopes of keeping customers happy and retaining their share of the market. Removing artificial colors and ingredients, labeling GMOs, and switching to cage-free eggs have all been recent popular trends for food manufacturers, retailers and restaurants, but it seems there is always room for another.
Campbell Soup Co. plans to transition to cans that do not use Bisphenol A (BPA) linings by the middle of 2017. It began using cans with linings made from acrylic or polyester materials in March 2016 and will continue to introduce the new linings across its U.S. and Canadian portfolio through 2017. It first began testing alternatives to BPA in 2012 after feedback from customers, but it was a challenge to find alternatives that did not react with its different products, such as its tomato-based products, which are naturally acidic and can react with some linings over time.
The company says it is on track to have 75 percent of its soup portfolio in non-BPA lined cans by December 2016. It is also testing alternatives to BPA coatings on other packaging, like aluminum cans and metal screw top lids on glass jars. It is on track to transition these products by the middle of 2017.
If a company is willing to spend so much of its time and resources on making a change like this, you can bet it believes it will pay of with customers in the long run. But just because consumers think a change is necessary, does that mean it actually is? The power of bloggers, social media, and new stories can amplify problems that were once virtually non-existent into major headaches for food companies.
Take the example of the "yoga mat chemical" in Subway's sandwiches. Vani Hari, the blogger more commonly known as "The Food Babe," started the controversy when she posted a blog about Subway's use of azodicarbonamide, which she said "is the same chemical used to make yoga mats, shoe soles, and other rubbery objects" and argued that "it's not supposed to be food or even eaten for that matter." After the post received a lot of circulation, Subway did remove the chemical. However, not only does FDA consider small amounts of azodicarbonamide to be safe, but many scientists also voiced their skepticism over the matter. As reported by NPR, food scientist Kantha Shelke noted that it's the dose that makes azodicarbonamide harmful, and the amount used in Subway's bread "is very, very, very small." Bakery industry consultant Theresa Cogswell also pointed out that "there are many things used in industrial uses" that cross over into food use as well, and "and the assumption that it's bad for you," is just not accurate. With all of that considered, though, some organizations, such as Environmental Working Group, argue that since it's not essential and it could pose health risks, it makes the most sense to just remove it from the food supply. Which is why in most cases like this, food companies opt to side with the consumer, because does it really make sense to argue with the people who are buying your products, even if you may not agree with them?
That's not to say that all consumer concerns are without merit. The case of BPA is a bit more complicated, as there have been numerous studies that suggest it can be harmful when consumed. According to the Mayo Clinic, some research has shown that BPA can seep into food or beverages from containers that are made with BPA, and exposure can be possibly harmful to the brain, behavior and prostate gland of fetuses, infants and children. Other research suggests a possible link between BPA and increased blood pressure. A recent study from the University of Texas Medical Branch at Galveston, found that higher concentrations of BPA in a pregnant woman's system could increase the likelihood that her baby is born premature, reported Time.
However, FDA's current perspective is that BPA is safe at the current levels occurring in foods. FDA notes that some studies have raised questions about the safety of ingesting the low levels of BPA, and to address them, the National Toxicology Program is carrying out in-depth studies to answer key questions and clarify uncertainties about BPA.
Whatever consumers, the government, or food companies believe about GMOs, artificial ingredients, BPA, or even azodicarbonamide, it is almost never a simple black and white issue. But food companies always need to consider what issues consumers feel strongly about, because those are the ones that will ultimately make or break a loyal, lifetime customer.