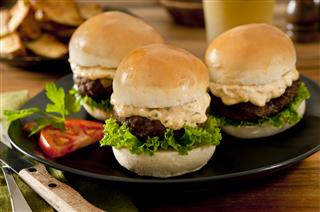 Coopetition: an amalgamation of cooperation and competition. Two companies that collaborate, despite their rivalries, to achieve a common goal or attain mutual benefits are taking part in coopetition.
Burger King made an attempt at the concept by suggesting a mashup of its Whopper and McDonald's Big Mac to create the McWhopper. The company took out an ad in the The New York Times and the Chicago Tribune proposing the two chains release the McWhopper for one day only, on the International Day of Peace, Sept. 21, with all the proceeds to benefit the nonprofit Peace One Day. It said the burger would be a hybrid of the two popular menu items, with six ingredients from the Big Mac and six ingredients from the Whopper. McDonald's was not a fan of the idea, however, posting a rejection letter from CEO Steve Easterbrook on Facebook saying "We love the intention but think our two brands could do something bigger to make a difference," and telling Burger King "a simple phone call will do next time."
McDonald's may have thought it made the right choice passing on the McWhopper, but fans had other reactions. The responses on social media were overwhelmingly positive towards Burger King, with the chain mentioned 39,448 times while McDonald's was mentioned 22,816 times, according to data from Spredfast. The hashtag #McWhopperProposal was used 9,198 times with #McWhopper in second with 8,341 mentions and #SettletheBeef in third with 2,882. Most of the comments on the McDonald's Facebook letter were also in support of Burger King, with responses like:
"Point goes to Burger King on this one,"

"MCD missed a great opportunity here. Awareness is a prerequisite for lasting impact."

"A simple "No" would have done Steve instead of your "We'll be in touch" lies."
Other chains recognized the merit in the idea, though, and made their own proposals to Burger King. WayBack Burgers told the chain it "would be happy to take Burger King up on its offer" and suggested the Whiple Whiple, a combination of the Whopper and its Triple Triple. It also made a jab at McDonald's saying "wouldn't Burger King prefer to partner with a fresh and innovative brand that is on the rise?" Denny's also posted ads in USA Today and The New York Times proposing to merge its Slamburger with the Whopper to create a burger with two beef patties, pickles, onion, lettuce, tomato, hash browns, fried egg and bacon.
Food manufacturers have been joining forces for years to collectively promote their products, and it usually pays off. Mondelez International, The Hershey Company and The Kraft Heinz Company marketed their Honey Maid, Hershey's and Jet-Puffed brands together this summer for s'mores lovers using the hashtag #ShareSmore. Other companies have also made popular co-branded products, such as Hershey's with Betty Crocker, or Lay's with KC Masterpiece.
Whether or not a hybrid burger actually get produced, the whole matter is a good lesson on coopetition. It's obvious by the social media response that customers support companies that work together, and in this case, it also has the added benefit of a charitable donation, which is another great driver of consumer trust. An event like the release of the McWhopper, or similar items, creates a buzz around the brands and brings customers into a store that may not otherwise visit. It could also improve a customer's overall perception of the companies if they value collaboration and philanthropy.