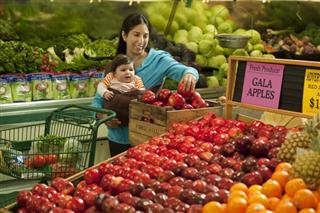 The ongoing debate over GMO labeling is gaining a national spotlight as the U.S. federal government decides whether to enact a mandatory labeling regulation across the entire country that will circumvent any state-by-state laws, such as the one recently implemented in Vermont.
Congress sent the GMO labeling legislation to President Barack Obama on July 14, which he is expected to sign. The bill would require most foods to carry a text label, symbol or QR code that indicates if it contains GMOs. USDA would have two years to write the rules once it is passed.
However, the legislation has been met with mixed reviews, with many saying the laws aren't strict enough. Allowing a QR code readable by smartphone, many argue, is confusing to consumers and will be an extra step that many shoppers will not take in the store. Rep. Peter Welch noted, "If there is an acknowledgment about the right of a consumer to have access to information, why not give them the information in plain and simple English?"
Many in the food industry support the legislation, though, saying a national mandate removes the patchwork of state rules and the burden of having to label products differently in each state. Companies have also voiced concerns in the past that mandatory text labeling will mislead consumers into thinking that GMOs aren't safe, when there is no scientific evidence that proves that.
While some of the concerns may just be speculation, it is not far off to believe that consumers will make a decision about GMOs without knowing all the facts. According to a survey from the Department of Life Sciences Communication at the University of Wisconsin-Madison and the Annenberg Public Policy Center of the University of Pennsylvania, 88% of Americans support the mandatory labeling of foods containing genetically modified organisms and 91% agree that consumers have the right to know when they purchase or eat products that contain GMOs. However, over 50% of those people acknowledge that they have only a fair or poor understanding of GMOs in food.
In addition, fewer than one in five people were aware of a report on genetically modified crops that found "no substantiated evidence of a difference in risks to human health between currently commercialized genetically engineered (GE) crops and conventionally bred crops..." Only 22% agreed that scientists have not found any risks to human health from eating genetically modified foods, and only 39% agreed that GMO crops are safe to eat.
Regardless of your view on GMO labeling, one thing is clear: more education among consumers is needed to ensure that whenever labeling laws are put in place, shoppers are actually able to understand what they mean.